Under Trees. The Germans and the Forest
An exhibition of the German Historical Museum
The Federal Ministry of Food, Agriculture and Consumer Protection supports the project with start-up funding
Curators: Ursula Breymayer, Elke Kupschinsky, Dr. Bernd Ulrich, Andreas Bernhard
In Germany the forest is more than just the sum of the trees. When trees are threatened, Germans go on the warpath. For in our country the forest is not only a cultural landscape formed through forestry and the result of modern recreational activities ranging from GPS-guided hikes to treetop trails. At the same time, the woods and trees possess great symbolic, spiritual and fairytale-like charismatic powers and have always been celebrated in German poetry, art and music. In this way the forest is deeply rooted in the German consciousness – not only when we are meandering under trees.
The exhibition will visualize this special relationship of the Germans to the forest, focusing first on the Romantic Age around 1800, when the forest and the trees first became a matter of scientifically based forest management and at the same time enriched literature, music and the graphic arts as subject and theme. It was above all painting – the core of the exhibition – that shaped patterns of perception that have marked our view of the forest up to the present day.
On more than 1000 m² of space the forest will be examined in its multifarious roles as place of violence, as stage of power, as embodiment of national identity, as part of popular and trivial culture and as object of touristic longing. The exhibition will also touch on the fixation of nature conservation on forestry and the debate about "Waldsterben", the decimation of the forests.
With several hundred objects the exhibition will illustrate one thing above all: the gradual development of the natural area known as "forest" into a projection surface for artistic, political, economic and scientific ideas and creations.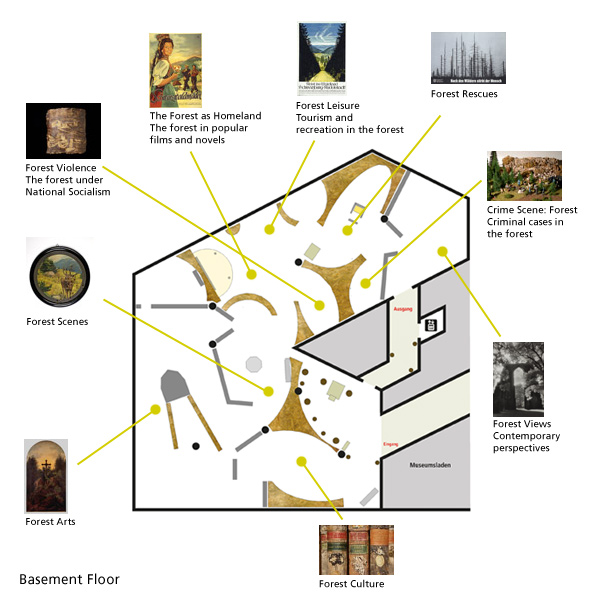 Floor Plan Exhibition Hall - basement floor - German Historical Museum
Please click the areas to enter the exhibitions areas