The Castle in War – the Siege
The vicissitudes of war were omnipresent in the Middle Ages. There seemed to be little difference between feud and war. Great battles with many combatants were relatively rare. It was more likely to find small bands ravaging the land and harming each other with the destruction they caused.
Castles were built as fortified defence bulwarks. If a surprise attack did not succeed, a prolonged siege ensued to capture the castle. With enough supplies and water a castle could hold out against a siege of assaulters for months. The attackers had to surround the castle completely in order to starve out the inhabitants and force them to capitulate.
European nobles became acquainted with the techniques and machines of siege during the Crusades in the Orient. From then on catapults and siege towers presented a great danger to fortifications. Trebuchets were very effective; they used the leverage principle to fling projectiles and were quite accurate. Siege machines were very expensive, however, and it required special knowledge to build and operate them. The powder-fired artillery introduced around 1400 was far more effective.
The Castle in War – the Armoury
The armoury of a castle was normally located in the dry upper storey of a tower. The castles of princes in particular kept large supplies of weapons, whereas the low-ranking nobility had to make do with fewer armaments.
A precise register of the contents of Kapellendorf Castle in Thuringia has come down to us from the year 1392. The castle belonged to the city of Erfurt and in case of war was supposed to provide armour to a great number of vassals.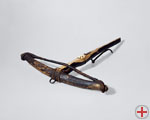 In the register of the "armour house" the greatest amount was made up of crossbows and their accessories. There was above all a huge supply of crossbow arrows, which were stored by the tons.
These were followed by black powder muskets, early hand-held guns that helped to keep the besiegers at a distance from the castle walls. The inventory also mentions such armour parts as cuirasses, helmets and above all many "byrnies", or chain mail shirts. There were also shields and iron gloves. Daggers and swords, on the other hand, belonged to the personal armour of the individual vassal. The supplies in the armoury consisted primarily of weaponry that was too expensive to be purchased by private individuals.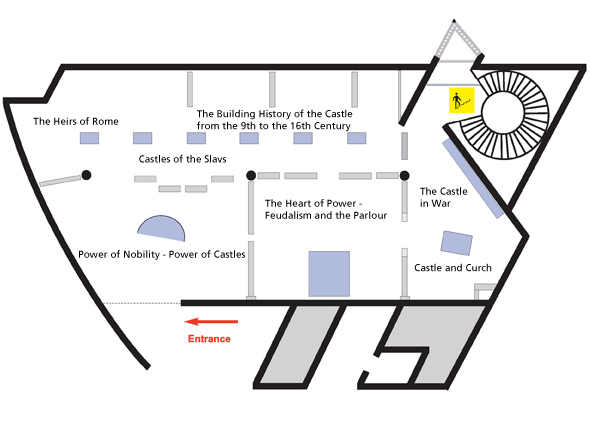 Floor Plan I. M. Pei Building - first floors - German Historical Museum
Please click the headlines to enter the exhibitions areas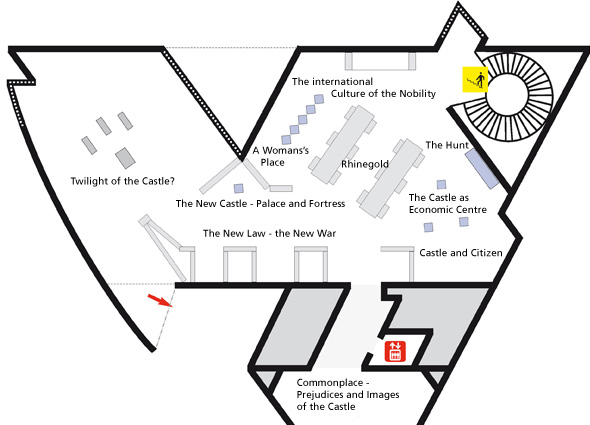 Floor Plan I. M. Pei Building - second floors - German Historical Museum
Please click the headlines to enter the exhibitions areas