Forever Young - 50 Years of the German Youth Photo Prize
An exhibition of the German Historical Museum
in cooperation with the Children's and Youth Film Centre in Germany (KFJ)
Curators: Dr. Christin Pschichholz, Dr. Dieter Vorsteher-Seiler
Since 1961 the competition has been sponsored by the Federal Ministry for Youth. In 1979 the Children's and Youth Film Centre in Germany (KFJ) began organizing the event. Children, youths and young adults can still submit their photos to the competition.
The prize-winning works have been archived from the early years on. Since the year 2009 the entire stock of the German Youth Photo Prize is housed in the German Historical Museum on permanent loan. The collection comprises some 10,000 photographs by around 2,500 different prize-winners.
The continuity of the German Youth Photo Prize has made this unique collection on photo history and youth culture possible. The photographs by young people selected for the retrospective show visual reactions to social, cultural and ecological conditions in society from the 1960s to the present day. A comparative examination of such spheres of action and experience as family, friendship, love as well as current affairs and politics, of developments in society and social injustices, of nature and environment, offers an overview across the generations that illustrates the importance of youthful perception. There are intimate insights and reflections on everyday life that help us to see history from its unpretentious side.
Complementing the exhibition is a selection of youth photos from the former GDR. The »Comparison of the Achievements of the Children's and Youth Photo Groups« was organized as a competition between 1970 and 1989. Many of the existing photographs are also in the collection of the German Historical Museum.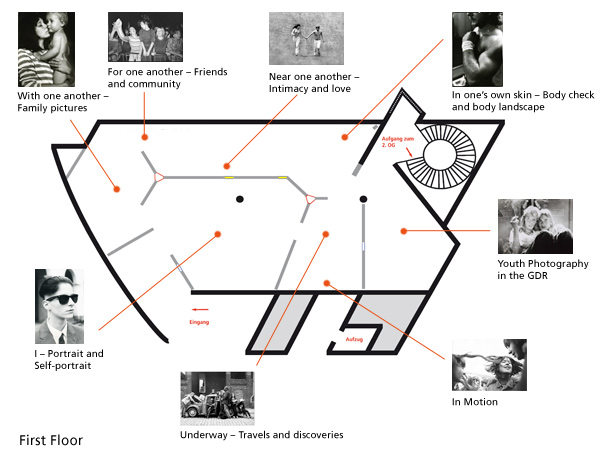 Floor Plan Exhibition Hall - first floor - German Historical Museum
Please click the areas to enter the exhibitions areas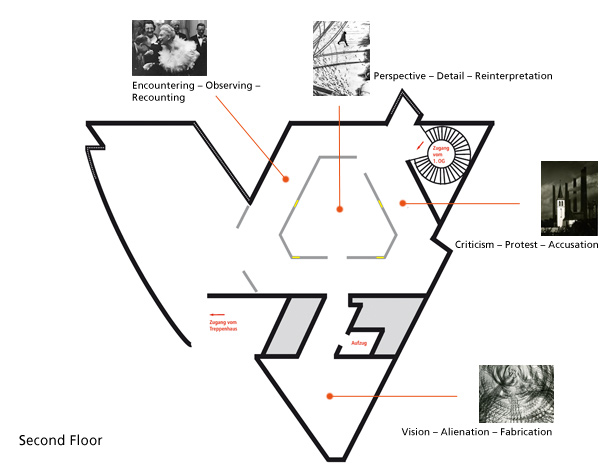 Floor Plan Exhibition Hall - second floor - German Historical Museum
Please click the areas to enter the exhibitions areas