Foreign Policy Aspects of the Reunification
With the fall of the Wall the possibility of reunification of the two German states suddenly stood high on the agenda of international politics: the division of Germany could only be overcome within the framework of Europe and with the consent of the Four Allied Powers of the Second World War. While the government of the USA supported < German unity in principle, the political leadership in Great Britain and France remained sceptical at first. The Soviet Union was afraid that its military alliance would fall apart without the GDR.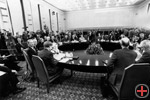 In order to regulate general foreign policy and security conditions for unification, the Foreign Ministers of the Federal Republic and the GDR as well as those of France, Great Britain, the USA and the Soviet Union met for several "Two plus Four" talks. Especially controversial was the question of the future bloc alliance of a reunified Germany. Furthermore the German-Polish border had to be recognized once and for all.
The most important decisions were taken in direct negotiations between Washington, Moscow and Bonn. During a visit to Washington in May the Soviet General Secretary and Head of State unexpectedly agreed to allow unified Germany a free choice of its alliance. When Mikhail Gorbachev then met with Helmut Kohl in July 1990, they were able to clear up the German-Soviet modalities of reunification.
In Moscow on 12 September 1990 the Foreign Ministers signed the "Treaty on the Final Settlement with respect to Germany". The treaty gave Germany back its complete sovereignty. With respect to international law the post-war period had thus come to an end.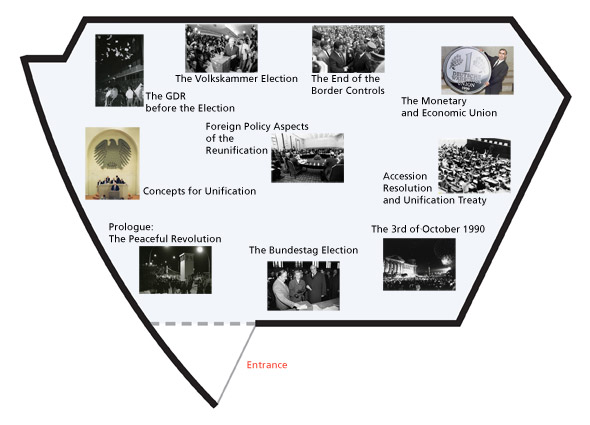 Floor Plan I. M. Pei Building - ground floor - German Historical Museum
Please click the pictures to enter the exhibitions areas