Accession Resolution and Unification Treaty
In the summer of 1990 the economic downfall and internal dissolution of the GDR accelerated; the coalition government broke apart at the beginning of August. Earlier and earlier dates for unification were discussed.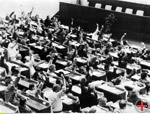 In the night of 22 to 23 August a special session of the Volkskammer came to a decision: with 294 to 62 votes the parliament adopted a joint motion of the CDU/DA, DSU, FDP and SPD parliamentary groups declaring the accession of the GDR to the area covered by the Basic Law of the Federal Republic, effective as of 3 October 1990.
The extensive Unification Treaty of 31 August settled fundamental legal matters. Besides changes in the Basic Law it regulated numerous institutional and financial questions. By request of the East German side it determined Berlin to be the capital of the united country, but left the question of the seat of government open.
The GDR authorities were able to get their way on other matters as well. For a transitional period the more liberal East German legislation on abortion was to remain in effect in the new Länder. The files of the Stasi were to be made available for processing. Expropriations of property by the Soviet occupation authorities in the period before 1949 were not to be contested, but those that occurred at a later time were to be revised according to the principle of "return before compensation".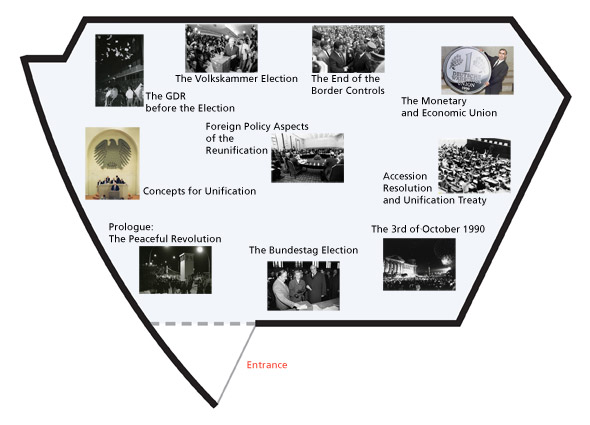 Floor Plan I. M. Pei Building - ground floor - German Historical Museum
Please click the pictures to enter the exhibitions areas