The End of the Border Controls
After the Wall came down, the "German-German" border lost its importance as a barrier between East and West Germany. Border controls continued to be carried out after 9 November 1989, but the boundary could normally be crossed with no trouble.
At this time the Modrow government undertook numerous measures to facilitate border traffic in both directions. The minimum obligatory exchange and the visa requirement were cancelled as of 24 December. In addition almost 200 new border crossings were opened and traffic routes that had been blocked for decades were restored.
From April 1990 the new government under Lothar de Maizière speeded up the dismantling of the border installations. In Berlin the Wall had almost completely disappeared by the end of the year. Due to the upcoming monetary and economic union the government decided to do away with controls on the German-German border altogether as of 1 July.
On 21 September the Minister for Disarmament and Defence, Rainer Eppelmann, signed the order to dissolve the GDR border troop; many of the soldiers were taken into the border guard units of the Federal Republic.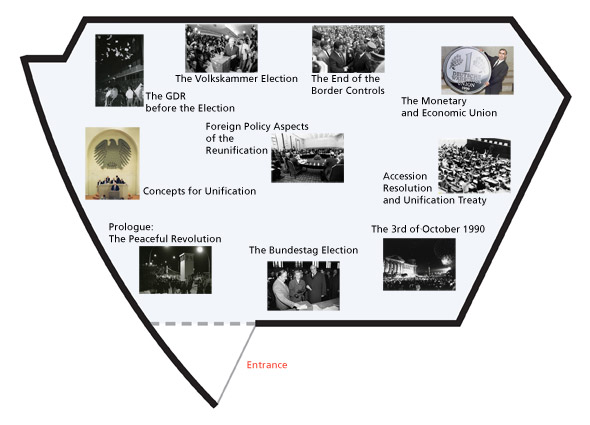 Floor Plan I. M. Pei Building - ground floor - German Historical Museum
Please click the pictures to enter the exhibitions areas