The 3rd of October 1990
The official celebrations for the "Day of German Unity" on 3 October 1990 were accompanied by numerous events and political speeches. On the previous evening the Volkskammer had gathered at the East Berlin Schauspielhaus for a "Festival of Unity". At the same time the GDR diplomatic missions abroad were closed down and the National People's Army dissolved.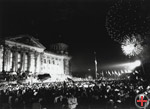 The accession ceremony was carried out at midnight in front of the Reichstag. In the presence of both governments, foreign diplomats and hundreds of thousands of people the flag of the Federal Republic was raised to the sounds of the national anthem and the peal of the Freedom Bell. Federal President Richard von Weizsäcker proclaimed the unity of Germany. The citizens celebrated the historic moment with fireworks and music.
In his radio broadcast Federal Chancellor Kohl described the moment as the happiest of his life and recalled the aim of European unity. There were also moments of reflection: the Federal President reiterated that the overcoming of the division must be connected with sharing. Lothar de Maizière stressed that life in the GDR had given rise to a feeling of identity as well, "a common ground that many people will find difficult to leave behind."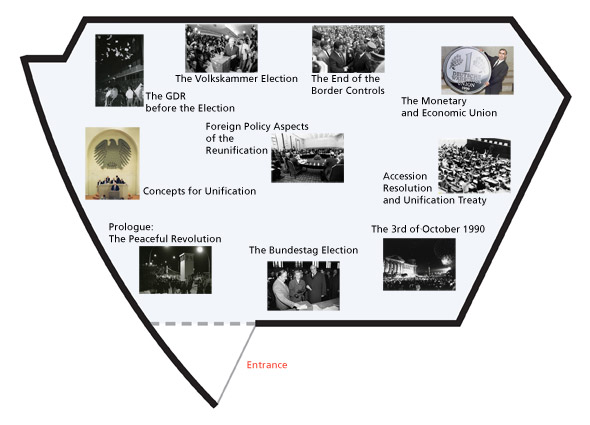 Floor Plan I. M. Pei Building - ground floor - German Historical Museum
Please click the pictures to enter the exhibitions areas