The Bundestag Election
The Bundestag election on 2 December 1990 represented the first free all-German parliamentary elections since 1932.
The winners at the polls were the parties of the Bonn government coalition: CDU/CSU got 43.8 percent of the votes cast, which put them in the lead in both the East and West Länder. Their coalition partner FDP received 11 percent of the votes. The losers were the West German opposition parties that had either opposed or only hesitantly supported the course of rapid reunification. The SPD fell back to 33 percent, while in East Germany they got only 24.3 percent of the vote, slightly more than in the Volkskammer election. With 4.8 percent the Green Party failed to meet the 5 percent restrictive clause in the West. They were only represented in the Bundestag by the East German delegates of Bündnis 90/Greens, where they got 6.2 percent of the vote, somewhat more than at the Volkskammer election. The PDS garnered 11.1 percent of the votes in the East, but only 0.3 in the West. The PDS entered the new parliament as an East German regional party, since the 5% restrictive clause applied separately to the old and the new federal Länder.
Altogether, the federal government under Helmut Kohl emerged with renewed strength from the elections. The new all-German government included three East German ministers: Günther Krause, Angel Merkel (both CDU) and Rainer Otleb (FDP).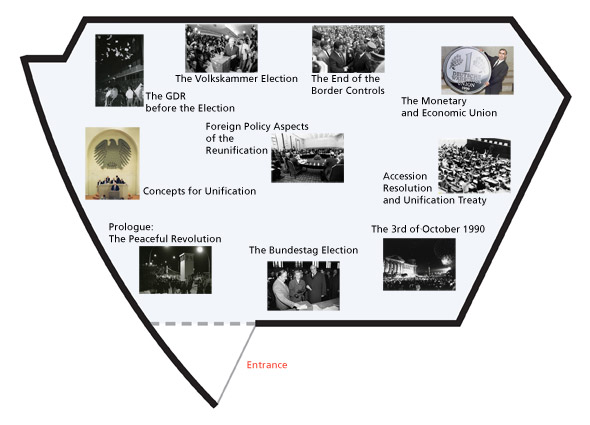 Floor Plan I. M. Pei Building - ground floor - German Historical Museum
Please click the pictures to enter the exhibitions areas