The GDR before the Election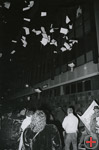 At the beginning of 1990 the GDR was in the throes of collapse: 344,000 people had left the country in 1989 and there was no let-up in the stream of resettlers to West Germany. Industrial production was caving in, the national deficit continued to rise, and the public amenities could hardly carry out their functions. The government and its machinery of power lost control of the land.
This became evident when demonstrators occupied the Ministry for State Security on 15 January 1990. With that they ushered in the dissolution of the intelligence agency. At the same time a further central demand of the citizens' movement was fulfilled: freedom of the press. From January many daily SED newspapers began transforming themselves into independent newspapers, and other new ones were published.
The end of the SED dictatorship brought with it a fundamental change in the political constellation. The official state party lost the majority of its members and had to relaunch itself as the "Party of Democratic Socialism" (PDS). Former bloc parties oriented themselves toward their sister parties in the Federal Republic. The newly founded social-democratic Party SDP changed its name on 13 January to SPD. On 5 February Minister-President Hans Modrow formed the "Government of National Responsibility" with the participation of representatives of the "Round Table", who had already decided at the end of January to move up the date for the first free elections to 18 March 1990.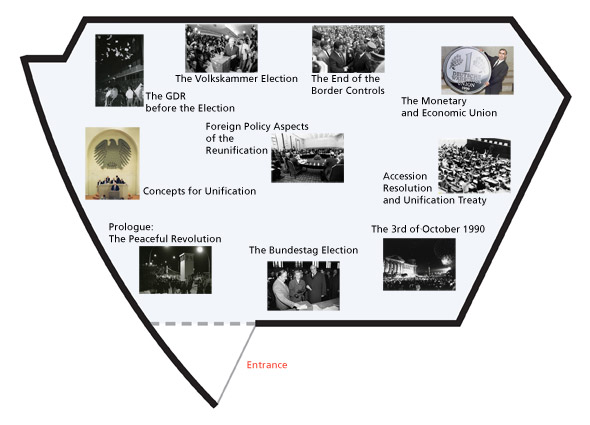 Floor Plan I. M. Pei Building - ground floor - German Historical Museum
Please click the pictures to enter the exhibitions areas