The Volkskammer Election
24 parties and electoral alliances with very different political objectives lined up for the first free GDR parliamentary elections to the Volkskammer. The PDS pushed for a reformed socialism and an autonomous GDR. The Bündnis 90, an alliance of citizens' movements, pursued a "third path" between capitalism and socialism. The electoral coalition "Alliance for Germany" propagated the social market economy as the way to prosperity and promised the swift unity of the two states. The SPD East also supported a rapid process of unification in contrast to the majority of West German Social Democrats.
The parties of the Federal Republic dominated the electoral campaign with their efficient structures, financial resources and prominent leaders. Federal Chancellor Helmut Kohl above all was able to mobilize numerous voters at his public appearances; Hans-Dietrich Genscher and Willy Brandt were also present at rallies during the East German election campaign.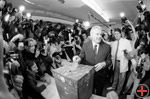 The outcome of the election took everyone by surprise: instead of the anticipated victory of the SPD, the "Alliance for Germany" won with 48 percent of the votes. The SPD got only 21.9 percent, and with only 2.9 percent the Bündnis 90 even lagged behind the Liberals (5.3 percent). The PDS had a respectable result with 16.4 percent of the votes. Evidently, the majority of the population had decided in favour of a swift reunification on West Germany's terms.
On 12 April the Volkskammer elected Lothar de Maizière (CDU) Minister-President. His government included members of the "Alliance for Germany", the SPD and the Union of Free Democrats.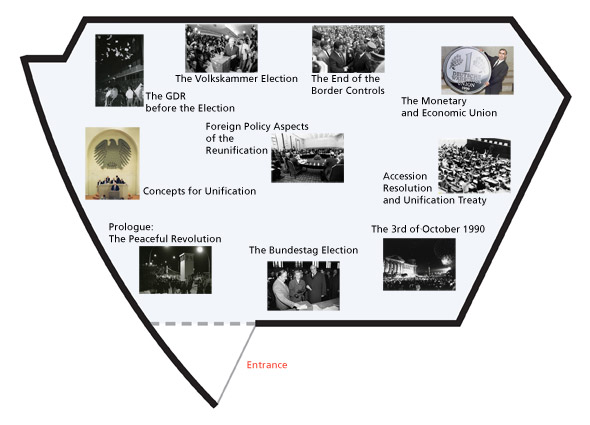 Floor Plan I. M. Pei Building - ground floor - German Historical Museum
Please click the pictures to enter the exhibitions areas