The Monetary and Economic Union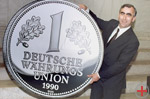 The first state treaty signed on 18 May provided for the introduction of the D-Mark and social market economy into the GDR, as of 1 July 1990. This corresponded to the will of most people in East Germany. For them the D-Mark was a symbol of Western prosperity.
The exchange rate between the East German Mark and the D-Mark was in dispute for a long time. West German experts advocated a rate of 1:2 at the most. East Germans, on the other hand, expected an exchange rate of 1:1. It presented a dilemma for the governments in Bonn and East Berlin: with an exchange rate of 1:2 most of the wages in East Germany would have amounted to less than 20 percent of those in the West. An exchange rate of 1:1 meant that the East German economy would suddenly be exposed to direct competition from Western companies.
In the end the Federal Republic made a concession to the GDR in order to prevent even more people from moving into the Federal Republic: wages, salaries, pensions, rent and other "recurring payments" were converted 1:1. A graduated scheme was arranged for cash and bank balances.
With the implementation of the monetary conversion, Western consumer goods now flooded the East German markets. At the same time the ailing GDR economy virtually collapsed. To help counter the consequences, GDR citizens were integrated into the social security systems of the Federal Republic. The Federal government defrayed the costs that arose through this decision primarily by means of the credit-financed "Special Fund German Unity".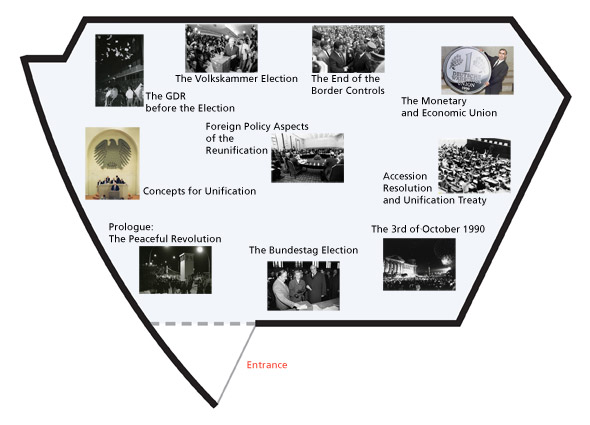 Floor Plan I. M. Pei Building - ground floor - German Historical Museum
Please click the pictures to enter the exhibitions areas