Prologue: The Peaceful Revolution
In the summer of 1989 the GDR was caught up in an existential crisis. The ailing planned economy could barely provide vital supplies to the population; in the eyes of the majority of East German citizens the SED regime was neither credible nor legitimate. The refusal of the authorities to follow the course of reform adopted by Mikhail Gorbachev in the Soviet Union aggravated the situation.
After Hungary had opened a crack in the "Iron Curtain", the wave of refugees to the Federal Republic began to roll. At the same time numerous opposition groups grew up, sharing the aim of a democratic regeneration of the GDR. They became the spokesmen for a peaceful revolution. With no economic backlog or military backing from Moscow the rigid state and party leadership had nothing to offer in response to the mass demonstrations and discussion forums of the new opposition.
With the fall of the Wall on 9 November the SED dictatorship came to an end. Beginning in December representatives of opposition groups and reform-oriented members of the old order met at the "Round Table". The committee demanded the dissolution of the Ministry for State Security – the Stasi – and began preparing free elections as well as a democratic constitution.
From mid-November new demands could be heard on the streets. With the slogan "Germany united Fatherland" more and more people expressed their desire for a swift unification with the Federal Republic. The German revolution entered its second phase: reunification.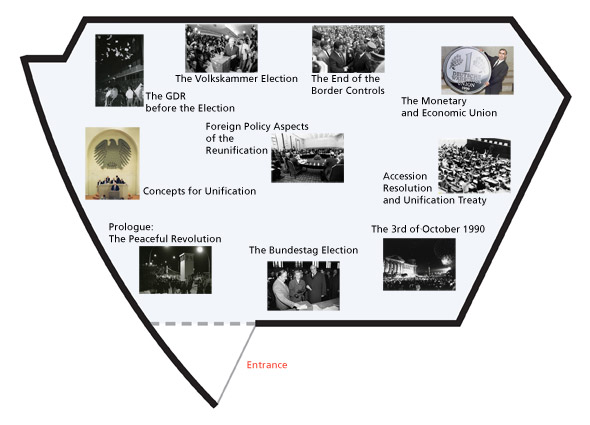 Floor Plan I. M. Pei Building - ground floor - German Historical Museum
Please click the pictures to enter the exhibitions areas