Concepts for Unification
With the fall of the Berlin Wall the "German question" had to be addressed. Reunification meant a political upheaval, and it was almost impossible to foresee the national and international consequences.
Rather than joining the Federal Republic, the government of Hans Modrow (SED) wanted to maintain a reformed GDR and therefore, on 17 November, proposed forming a "contract community" between the two German states. The question of a possible unification with the Federal Republic also split the civil rights movement into proponents and opponents. Most of the opposition groups and intellectuals pleaded for a fundamental renewal of the East German state. In the appeal "For Our Land" they warned, on 26 November, of a "sellout of material and moral values" and a "co-opting" of the GDR by the Federal Republic.
With his "Ten Point Programme for Overcoming the Division of Germany and Europe" from 28 November 1989 Federal Chancellor Helmut Kohl adopted an aggressive strategy. He was reacting to the growing demands for reunification with the GDR.
The West German government now increasingly assumed the leadership in the process of German unity. On 7 February they proposed forming a monetary and economic union with the GDR to take effect as early as 1 July 1990.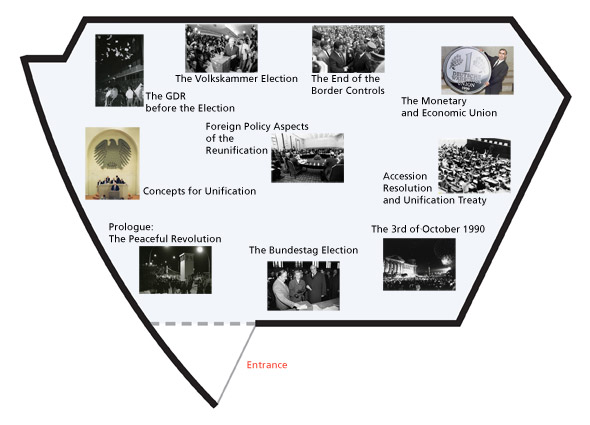 Floor Plan I. M. Pei Building - ground floor - German Historical Museum
Please click the pictures to enter the exhibitions areas