Café
On the east side of the museum there is our café with a view to the Berliner Dom, near the pier for boat trips around the city. Currently the café can only be entered from the outside near the pier.
Whether breakfast, lunch or coffee breaks, a various offer of homemade food and a large selection of cakes and pies invites you to linger in a stylish ambience. The café can be visited without a museum ticket.
Opening hours
Wednesday to Friday 12 am to 5 pm, Saturday to Sunday 10 am to 6 pm
Contact
Kofler & Kompanie NewCo GmbH, vertreten durch Frank Schwarz
Patrick Basalai
Unter den Linden 2
10117 Berlin
+49 30 206 427 44
info@museumscafe-zeughaus.de
www.kofler-kompanie.com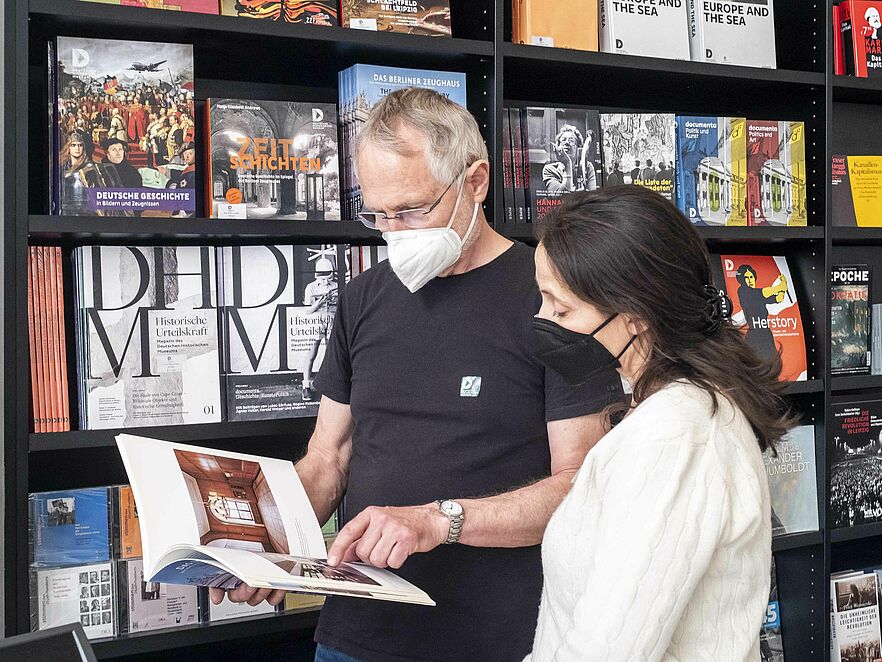 Shop in the Pei Building
Discover our museum shop in the Pei Building with its exclusive selection of products.
Opening hours
Shop in the Pei Building: daily 10 am to 6 pm, Thu 10 am to 8 pm
Contact
Buchhandlung Walther König
in the Deutsches Historisches Museum
Unter den Linden 2
10117 Berlin
Tel. +49 30 206 24 5 24
Fax +49 30 206 24 7 02
berlindhm@buchhandlung-walther-koenig.de
www.buchhandlung-walther-koenig.de
Online shop
Publications of the Deutsches Historisches Museum as well as posters, postcards and souvenirs can be comfortably purchased from home round the clock through the museum's online shop.