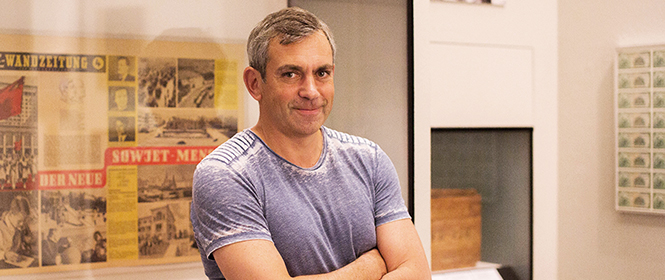 'THE NEW SOVIET PERSON WAS A FAILED EXPERIMENT.'
My favourite piece of history: Wladimir Kaminer
My favourite piece of history is the German edition of the wall newspaper ´The New Soviet Person´ from 1947. The newspaper served as a source of information as part of state attempts to inculcate people with socialist personalities. A prerequisite in this regard was the nationalisation of the means of production.
I even find the title of the exhibit – 'wall newspaper entitled The New Soviet Person' – striking. The leaders of the post-revolutionary USSR realised that a society based on equal opportunity for all, fraternity and solidarity couldn't be built with old people. The older generation were simply too corrupted, too weak, too lazy and too full of envy. There was a need for a new kind of person – one who could do justice to a better kind of world.
THEY WANTED TO AWAKEN THE SOVIET PERSON – OR GOOD SOUL – WITHIN US
In the former Soviet Union, there were two theories on this question. One theory was that this new person came from elsewhere and just had to be attracted, as though they were 'out there somewhere'. The images on the wall newspaper showing grand universities with three-metre-high doors symbolise the new Soviet person, as they were basically viewed as a supreme being.
The other idea was that this new person lay within us, in our older selves. They just had to be awoken. All you had to do was change or better people's circumstances and they would automatically find their true selves, their good soul. As a result, the state did all it could to conjure up our inner Soviets: with art, literature, scientific theories and, first and foremost, with education.
Entire scientific disciplines were devoted to the subject. Attempts were made, for instance, to demonstrate that cuckoos do not lay their eggs in the nests of other birds, but that they make special calls to ensure that their chicks hatch from the eggs of other species. All you have to do is make the right cuckoo call and the right birds will emerge. Unfortunately, it was impossible to provide any scientific proof, as the birds in the laboratories (i.e. in captivity) did not make their calls. This is a metaphor for socialist systems: people in captivity simply come to a standstill. The cuckoos do not call and the people do not develop.
PEOPLE ARE BORN NEITHER GOOD NOR BAD
In my opinion, there is another reason why the notion of a new Soviet person failed: people are different every day, depending on their mood when they wake up. People are not like eggs; they are neither fundamentally good nor fundamentally bad. Sometimes they do good things, sometimes they do bad things and sometimes they do nothing at all. It is hard to predict how people will behave.
Therefore, the new Soviet person failed to materialise despite all the efforts of the state, despite the wall newspaper and despite the revolutions. The cuckoos could tell you where this person is, but they prefer to stay silent.