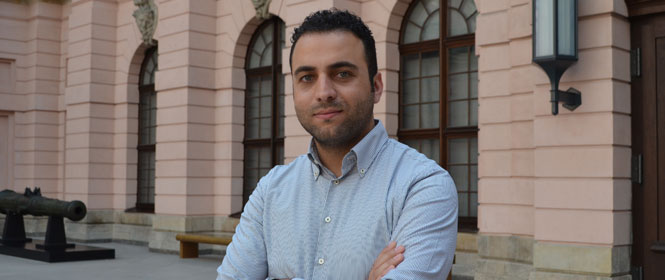 Multaqa – Museum as Ray of Hope
This year, 20 June is World Refugee Day. On this day, events and programmes across the world draw attention to the more than 65 million people who have recently fled their homes. For the Deutsches Historisches Museum, it is a special occasion to introduce the project "Multaqa: Meeting Point Museum – Refugees as Guides in Berlin's Museums", as well as Bashar Almahfoud, one of these exceptional guides.
At the peak of the refugee crisis in 2015 many cultural institutions and museums have established projects for refugees. "Multaqa: Meeting Point Museum – Refugees as Guides in Berlin's Museum's" is one of them. Initiated by the Staatliche Museen zu Berlin / Stiftung Preussischer Kulturbesitz in late 2015, refugees and migrants give guided tours to other newly arrived individuals through the Deutsches Historisches Museum, the Pergamonmuseum with its collections of Islamic art and the art of ancient Near East, as well as through the Bode-Museum and its Sculpture Collection and collection of Byzantine art. The name "Multaqa" is Arabic and can be translated as "meeting point". The term therefore describes the project's goal – a meeting point and an opportunity for newly arrived individuals from different cultural backgrounds and historical experiences to connect.
Engineer and museum guide
"For me, Multaqa is like a message – it brings people together and shows them German history or their own cultural heritage in other museums," says Bashar Almahfoud, one of the 25 guides for Multaqa. He has been a guide since the project began a year and a half ago, and guides up to 30 people through the permanent exhibition of the Deutsches Historisches Museum in Arabic, English and German several times a month. About two and a half years ago Bashar came to Berlin with a regular visa to write his PhD dissertation in architecture and energy management. He works as an engineer for an international company in Berlin during the week, and gives guided tours through the museum to people interested in history at the weekend. To work as a Multaqa guide, he first completed training in pedagogy and German history.
Teaching people from Syria, Iraq, but also Germany and other European countries about German history is personally important to him. While discussions about his own history are the focus of Multaqa tours through the Pergamonmuseum, Bashar's main interest is conveying the history of his new home country. "When you live in a country, you must learn its history," he says. "That way you can not only learn something about the society, you can also reflect on your own life."
The destruction of Germany after the Second World War as hope
Bashar Almahfoud is particularly impressed by the Deutsches Historisches Museum's display dedicated to the reconstruction of Germany after the Second World War. Despite all the evidence of suffering and struggling in everyday life after the war, this part of the exhibition represents hope for Bashar Almahfoud – hope that his own home will one day be rebuilt and inhabitable again. "I would like to stay focused on the positive. It may be that the visitors who take the Multaqa tour have experienced war, and so I try to concentrate on the period after the war. They must always have hope," says the Multaqa guide. He cannot say whether his hope will resonate with the refugees in the long term. During the "Meeting Point" tours, however, there is always conversation. Such discourse was the goal of the project, which was honoured with an award by Minister of Culture Monika Grütters last summer.