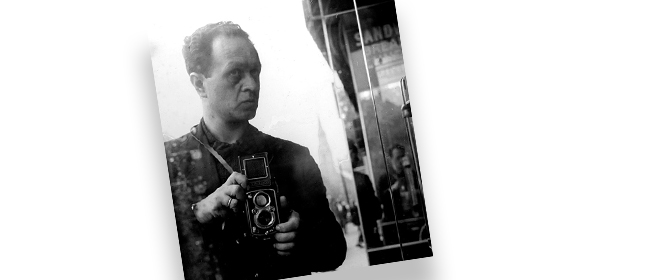 Fred Stein – Hannah Arendt's Favourite Photographer
Ulrike Kuschel | 25 May 2020
When we think of Hannah Arendt today, we may well have an iconic portrait by the photographer Fred Stein in mind. He photographed the political theorist on numerous occasions, sometimes during portrait sessions of several hours in her living room, and masterfully captured Arendt's particular charisma. Ulrike Kuschel, the project assistant for our current exhibition 'Hannah Arendt and the Twentieth Century' tells us on the DHM blog what makes his pictures so special and how the two of them ever came to meet at all.
'I first encountered Hannah Arendt as – I'd say – a pop icon, an intellectual person, as a photo actually. … the intellectual woman – a figure that we don't often get to see in our everyday imagery. And what she displayed, so to speak – intellectualism – is embodied in the way she sits there, in the way she holds the cigarette'.
It's hard to tell from such a brief description exactly which photo was meant by Stefanie Lohaus, a cultural expert, when interviewed by the curator of our exhibition, Monika Boll. It stands to reason, however, that she was referring to one of the iconic portraits by the photographer Fred Stein, who masterfully succeeded in capturing Arendt's special charisma.
Fred Stein's photographs of Hannah Arendt convey an image and a look that remain inimitable today. The first portraits were made in 1944.
Afterwards she sat for portrait sessions with him in 1949, 1960 and 1966. An undated contact sheet of portraits, which is in the Fred Stein Archive, contains other pictures taken in the same place as the photos from 1944, perhaps on 95th Street, 317 West.[1] It was here that Arendt lived until 1951, occupying two furnished rooms with her husband, Heinrich Blücher, and her mother, Martha Arendt Beerwald (1874–1948). The fact that Hannah Arendt commissioned Fred Stein more than once shows that she was more than satisfied with the way in which he portrayed her.
Fred Stein – A Methodical Photographer
Peter Stein recalls that his father's way of working involved 'three methods of taking portrait photos. The first was to visit people who asked for a portrait at their home. That way he could take them in their accustomed surroundings, where they felt most comfortable. If this wasn't possible, they came to his studio, to our home. The third method was a purely documentary one, in which he went to public events … and took the photos there'.[2] While the Arendt portraits of the 1940s were mostly photographed in front of a pale, bare wall (making it difficult to ascertain the location), from 1960 onwards the portrait photos were clearly shot in Arendt's home. In December 1959, Hannah Arendt, now a successful author and a lecturer at various American universities, moved into a large 4 1/2 room apartment at 370 Riverside Drive.
The contact sheets in particular (Arendt contact 7, 8, 9) and the photos from 1960 testify to the positive chemistry between sitter and photographer. During the latter session, the comfortably furnished living room comes into the picture; the many paintings on the walls surely include works by the artist couple Alcopley (Alfred Lewin Copley) and Nína Tryggvadóttir, both of whom were close friends of Arendt and her husband, Heinrich Blücher. This time, he took his place on the sofa beside her.
Hannah Arendt, elegantly dressed and wearing a pearl necklace, posed on the sofa and various chairs in the course of the photo session. In one sequence, Fred Stein portrays Arendt in a semi-reclining position with her legs crossed on the sofa. By looking at the face of Blücher's wristwatch, it can be seen that the session lasted at least from six to half past six. Even at the start, there is no sign of awkwardness; the mood evidently becomes increasingly relaxed. The last picture on contact sheet 8 shows Blücher laughing in the middle of the room with an empty tumbler in his hand. A bottle of Marquis de Caussade Fine Grand Armagnac stands within easy reach on a shelf next to the sofa, but it is still packed in cellophane. These photographs of the successful 'Dual Monarchy'[3] seem to offer a glimpse into their life at home.
Escape to Paris
Even though they first met in New York, the life stories of Hannah Arendt and Fred Stein exhibit certain parallels, like those of many others who had to leave Germany after 1933 for political reasons or because of their Jewish origin. After being held under arrest for a short time by the Gestapo, Arendt had fled from Berlin to Paris. Fred Stein had fled to Paris with his wife Liselotte (Lilo) after being dismissed from the judicial service in Dresden because of his 'non-Aryan descent' and subsequently being warned of his imminent arrest via an acquaintance, the aforementioned Alfred Lewin Copley.[4]
In Paris, Arendt found employment with the Youth Aliyah. This was a Jewish organisation that worked to bring children and teenagers from the German Reich to safety, especially in Palestine. At the same time, acting from necessity, Fred Stein had turned his hobby into a profession, using a Leica 35 mm camera that Lilo and Fred had given as a wedding present. 'Dresden drove me away; that's how I became a photographer', is how Fred Stein summarised the start of his career. In Paris, he set up Studio Stein in his apartment in Montmartre. According to his business card, he offered 'portrait – publicité – reportage – photo industrielle'. In a curriculum vitae from around 1976 (Archive of the Leo Baeck Institute New York), Lilo Stein dated the start of Fred Stein's involvement in photography to 1934, adding 'esp. doing portraits' and mentioning Stein's membership in the 'German antinazi Journalist Asso'. In Paris, Fred Stein portrayed German emigrants such as Willy Brandt (later Federal Chancellor), Klaus Mann, Alfred Döblin, Bertolt Brecht and Anna Seghers, as well as non-Germans such as Léon Blum, the Prime Minister of France, and the writer André Malraux. He also took pictures on the streets of Paris. He depicted simple labourers, children playing, street musicians and homeless people, treating them with as much dignity as intellectuals and artists.
Common Goal – New York
After the occupation of France and their temporary internment as 'enemy aliens', the German emigrants had to flee again. With the assistance of the rescue network set up by Varian Fry, both Stein and Arendt managed to emigrate to the United States. Arendt and Heinrich Blücher arrived in New York on 22 May 1941; the Steins and their young daughter Marion on 13 June 1941, having been interned in Trinidad in the meantime.
Fred Stein had been made to hand in his Leica in a camp in France, but was able to buy a new one in New York with the help of relatives. Soon it was joined by a medium format camera and he started street photography again. Through the square viewfinder of the Rolleiflex, he explored the environment of the big city, showing its inhabitants with great interest and empathy.
Health problems limited the scope of his work to portrait photography after 1950. In the course of his life, he portrayed over a thousand people, including 24 Nobel Prize winners listed in a document in the Fred Stein Archive, written after his death. In the last few years of his life, Fred Stein worked on a book with the title 'That was not our Germany. Reading for those who come after us'. The planned anthology was to contain photos by himself and texts by anti-fascist writers. Hannah Arendt was one of those whom he asked for a contribution.[5] Arendt, who attested that he was 'one of the best contemporary portrait photographers', replied: 'I don't really know what you want me to write for the publication. Give me a tip'.[6] Fred Stein died suddenly in 1967. The book project remained unfinished.
References
1 This series most likely includes the picture of Hannah Arendt in a dark jacket, leaning on the back of a chair, which appeared in the Literaturkalendar 1960 with an advertisement for the German edition of Arendt's book about Rahel Varnhagen, there subtitled: 'Life story of a German Jew in the Romantic period'. A vintage print of this photo is held in the DHM's collection as part of the Brocke donation. We have no knowledge of a contact sheet for this photo.
2 Peter Stein: A Personal Perspective on My Father. in Fred Stein Dresden–Paris–New York, 2018, p. 18.
3 A description in fiction by a friend, the poet Randall Jarrell (see Elisabeth Young-Bruehl: Hannah Arendt, Frankfurt a. Main 1991, p. 372.) 'When I first knew them I noticed that he did little things to placate or mollify her, or to keep her from being troubled or aroused, and I decided that she was the dominant member of their household, but after a while I noticed that she behaved in exactly the same way about him: they were a Dual Monarchy'.
4 Alfred L. Copley (1910–1992), doctor, haematologist and artist.
5 Letter dated 18 February 1964, Fred Stein Archive.
6 Hannah Arendt's reply, dated 9 March 1964, Fred Stein Archive.