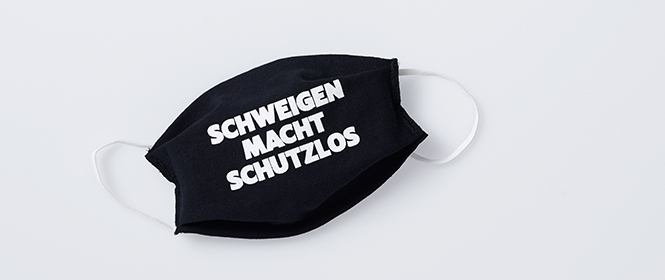 The Pandemic as a Magnifying Glass
Julia Franke | 24 March 2021
In Germany, the Covid-19 pandemic first upended everyday life one year ago. The first lockdown in the Federal Republic started in March 2020, and today politicians are still searching for ways out of the second one. The restrictions imposed to fight the pandemic have left their mark on society. In this series, five head curators at the Deutsches Historisches Museum reveal how the coronavirus pandemic has been documented in the collection. Julia Franke, Head of Everyday Culture, presents three objects that are symbolic of the pandemic as well as its social consequences.
In early 2020 people were already saying that the Covid-19 pandemic would hold a magnifying glass up to pre-existing stresses and strains in society. It has accelerated the decline of bricks-and-mortar retail in the city centre. By contrast, ecommerce sales went up 30 percent in 2020. Social inequality is deepening, for example as the result of school closures.
Government measures to contain the coronavirus pandemic – including, in particular, the lockdowns of spring 2020 and winter 2020/2021 – have brought numerous challenges: social distancing and, for some, cramped living conditions and economic insecurity, due to reduced hours or the loss of a job. Others have had the burden of caring for young children at home, or home schooling – often in addition to their professional responsibilities. These everyday challenges are one reason why we've witnessed an uptick in domestic violence during the pandemic. The victim support organization WEISSER RING e.V. was quick to launch its 'Silence Makes You Defenceless' campaign just one month after the start of lockdown, in May 2020. Many people in Germany were already wearing (often homemade) masks at the time, and organizations like WEISSER RING seized the opportunity to get their message out by producing cloth masks with slogans drawing attention to the violence that goes on behind closed doors. In the spring and summer of 2020, wearing a mask became an expression of social courtesy and solidarity. Later in the year, however, cloth ones were replaced by safer surgical masks and FFP2 respirators.
In addition to covering one's nose and mouth, which became a requirement for travelling in Deutsche Bahn trains and public transportation in 2020, social distancing was and still is considered an important preventive measure. The new regulations – for example the ban on assemblies, which was tantamount to a ban on demonstrations – have been the subject of public debate.
The #unteilbar (#indivisible) alliance handed out colourful barricade tape to participants at their demonstration in Berlin on 14 June 2020 for their nationwide day of action. The three-metre-long pieces of tape helped protestors keep a safe distance from one another, thus lowering the risk of contagion. This social action – referred to as the 'tape of solidarity' – prevented close contact. But the coloured tape was also an eye-catching element that stands out in the pictures of the summer 2020 demonstrations.
Stylized images of the SARS-CoV-2 virion (a single virus particle), with its characteristic spikes, became symbolic of the virus and the risk of infection. The Düsseldorf-based design collective Deepe Gefühle produced a virus-shaped Christmas tree decoration just in time for Christmas 2020. They crafted it with a 3D printer, before sandblasting and painting it by hand. The actual virion is found in aerosol particles and droplets and has a diameter of 60 to 140 nanometres. By blowing it up in the form of a Christmas tree ornament, the collective made it endurable, in an ironic tongue-in-cheek gesture. What's more, they used their symbolic disempowerment of the virus to draw attention to social dislocation: all proceeds go to Seebrücke, the international migrant rights advocacy group.