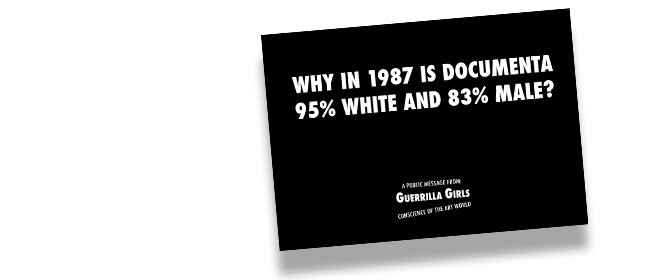 documenta and some of its (other) others
Lars Bang Larsen | 19 August 2021
documenta was criticised by many different people and groups throughout the years. Especially the ratio between male and female or queer participants in the exhibition was often the focus of discussion. Dr Lars Bang Larsen, co-curator of "documenta. Politics and Art", discusses some protest campaigns and the change of the gender ratio from the first to the tenth documenta.
It is part of documenta's post-World War II legacy that its makers ignored or doctored the historical narratives of its others – including the 'East' and those persecuted and murdered by the NS regime. The documenta exhibitions would only slowly and fitfully wake up to these, and to its other others. Often the tendency to de-politicization that ran in documenta's DNA pushed their inclusion as far as to the brink of the twenty-first century.
To view the history of documenta through a critique of its representations and self-representations is to engage with it as a patriarchal institution. The race and gender slant of documenta continued to be overwhelmingly white and male, and the response of the New York-based feminist artists group Guerrilla Girls to documenta 8 is telling: they created a business card to be distributed at the show with the terse question, "Why in 1987 is documenta 95% white and 83% male?" One Guerrilla Girl remembers, 'We saw the Documenta list of artists, ran the statistics, created and printed the cards in New York and gave them to people we knew who were going to Documenta.'
At most of the twentieth century documenta exhibitions art was defined as male, and the erasure of women artists itself obliterated. Since the late 1960s feminist protests against documenta were recurring, a counter-tradition that started with artist Chris Reinecke's happening at the press conference of documenta 4 where she kissed Arnold Bode. In Julia Voss's interview with Reinecke for the exhibition catalogue of 'documenta. Politics and Art', she states that "I wanted to provoke [Bode], as a woman. I wanted to see how he – the great master – would react. But he pushed me away, and that's actually what I expected. That generation just didn't have the sense of humour to say: 'Come here, girl, and I'll kiss you back'." As we know from Guerilla Girls, Reinecke's proto-feminist gesture fell on infertile ground, along with its aim of unsettling the gendered nexus between the '50s patriarchy and its predilection for what Reinecke calls "good old panel painting."
documenta was not to have a woman artistic director until Catherine David took the helm of the 1997 documenta 10. Other fundamental changes were heralded with this watershed exhibition, as it was also the first documenta to declare art a composite phenomenon between 'politics' and 'poetics'. Still, in the main text of the documenta 10 catalogue – a conversation between David and art historians Jean-François Chevrier and Benjamin Buchloh, titled "Das politische Potential der Kunst" – Buchloh lamented European intellectuals' uses of "feminism or a certain reception of American multiculturalism" that in his view only insufficiently took into account the surrounding political reality. It seems that in the 1990s, feminist politics just wasn't political enough: one cannot help but think that Buchloh would have made a stronger point if he had considered documenta's historically absent relationship to feminism.
In an e-mail response to 'documenta. Politics and Art', Alexander Farenholtz writes that even if the art market-friendly documenta 9 can hardly be seen as paradigmatic for artistic innovation, in retrospect Jan Hoet's exhibition deserves credit for the fact that "gay/queer, black and migrant identities were, as far as i know, for the first time an explicit (for the first time in the leading time as well) and visible topic." This is an interesting observation that merits discussion. To be sure, queer artists had been represented before at documenta, including artists such as Robert Rauschenberg, Jasper Johns, and Andy Warhol at documenta 3 and 4 – and no doubt others before them, too. You just wouldn't be any the wiser about their homosexuality from what was said about them from documenta's side. Not until David Hockney's participation at the 1968 documenta 4, that is: A part of the 'documenta americana's' roster of Pop artists from the United States and Great Britain, the comprehensive presentation of Hockney's paintings and prints included homoerotic drawings in the series 14 Poems from Cavafy (1966), one of which, showing a male couple in a shared bed, naked and sleeping, was given a page on its own in the exhibition catalogue.
This discreet rendering visible of gay subjectivity at documenta 4 came and went. There was to my knowledge no acknowledgment of other sexual identities at Harald Szeemann's seminal documenta 5. Sure, gay artists such as Paul Thek and David Medalla were represented with large-scale projects, but you had to look closely for queer innuendo, such as one of Medalla's ejaculatory bubble machines that was placed inside his and John Dugger's People's Participation Pavillon (1972) that was otherwise a kind of shrine to communist thought. In this respect the interest evinced by documenta 5 in culture's outsiders and marginal cultural expressions, typical of the '68 generation, was also characteristically heteronormative. Thus you also wonder what Szeemann and his co-curators made of Kenneth Anger's perfection of the leatherman image in Scorpio Rising, his 1963 art film for guys with a preference for leather jackets and big packets that was part of the documenta 5 film programme.
The artist Loretta Fahrenholz created new works for 'documenta. Politics and Art', including the print series We-Wolf and the performance A Way of Turning, both of which include subjects excluded by the documenta exhibitions in the twentieth century: communist and Jewish artists, queer and racialised subjects. In Fahrenholtz's work they (re)appear as haunting figures that echo insistingly in the documenta makers' rhetoric of 'free art'. As she puts it in an interview in the exhibition catalogue, "I see haunting as a back-and-forth movement, the presence of all things that are there, even when denied." Through the gestures and after-shivers of Fahrenholtz's images and performers we can begin to trace, and make readable, some of documenta's historical others.