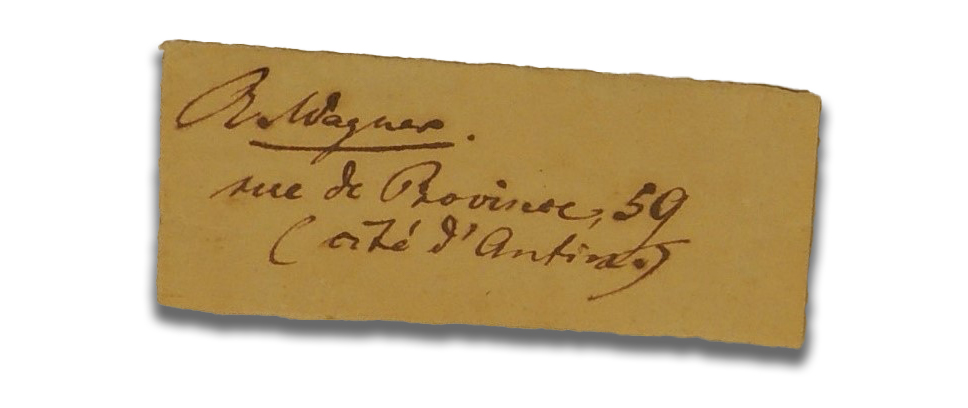 What's That For? An Address Slip from Paris
Katja Pinzer-Hennig | 18 May 2022
It's just a small piece of paper, now in the holdings of the Richard-Wagner-Stätten Graupa. But it contains a clue to Richard Wagner's travels and one of his times spent in Paris. Custodian Katja Pinzer-Hennig reports on this seemingly unspectacular loan, which is currently on show in the exhibition "Richard Wagner and the Nationalization of Feeling".
No, this isn't another opportunity to discuss Wagner's finances, even though he was perpetually concerned with money – be it in The Ring, in various writings, or in his private and creative life. Today's question does concern Richard Wagner as a millionaire – though not in terms of marks, but in kilometres. Did Wagner crack the million mark? Did he travel more than a million kilometres, at a time, moreover, when people usually hardly ever left their hometown? This was, after all, a time when travelling on foot, horseback, or by carriage was arduous and tedious.
Whether his journeys actually amounted to more than a million kilometres remains to be seen. But what we can say is that Wagner was a frequent traveller. It is known that the composer visited Paris at least ten times between 1839 and 1862. Commemorative plaques on various buildings in the city refer to his presence there. A small piece of paper from the holdings of the Richard-Wagner-Stätten, Graupa, contains a hidden clue as to one of Wagner's whereabouts and stays in the French capital. The slip in question measures just 3.3 x 8.2 cm. The note reads: "R. Wagner. rue de Provence, 59 (cité d'Antin)." While citing a Parisian address, the note is undated, meaning it doesn't reveal which of the many sojourns the composer was enjoying at the time. Nor does it reveal whether it is the address of his lodgings or those of a sender, whether Wagner himself penned the slip or some other, unknown, person did. The rue de Provence in the Quartier de la Chaussée-d'Antin still exists today. But there is no reference to Wagner there.
However, Wagner's correspondence and a quick aside in his autobiography provided more information. While in search of an "apartment away from noise" he found "lodgings with a room in the Cité de Provence". In volume 3 of the collected letters, "Sämtliche Briefe Richard Wagners", one of the first letters Wagner writes to his wife from Paris contains the note: "Finally today … I have taken other lodgings, in a Cité (Cité d'Antin) on the 4th floor – 65 francs!!…"
The sender's address of rue de Provence subsequently appears in ten of the 17 letters Wagner dispatched from Paris in the period 2 February to 13 March 1850. One of the letters – without a street name, however – is written to the painter, friend, and his "companion in hunger" from his first stay in Paris (1839–42), Ernst Benedict Kietz. In it, Wagner writes: "That you come to Truffaut today! I advise you to. I need the book of Lohengrin again: bring it with you."

This presents us with a possible explanation as to how and why the address slip pictured above made its way to Graupa, the place in Saxony where Wagner's opera "Lohengrin" started to take shape. For the back of the slip contains the following handwritten note: "Donated by Prof. Dr. Kietz. Dresden". The person who penned those words was evidently the younger brother of the painter Ernst Benedict Kietz, to whom Wagner had written the letter requesting the book. The sculptor Gustav Adolph – the "prof." of the note above – met the composer through his brother. He visited the Wagners during their summer retreat in Graupa in 1846 and later described their quarters in a commemorative book. In the year of the first performance of "Lohengrin" in Bayreuth, he had a plaque placed on the house in memory of the revered composer and, in 1907, became a co-founder of the preservation society for what is now known as the Lohengrin House in Graupa. He donated several objects for display in the Wagner rooms set up in the house that same year, among them the address slip shown here.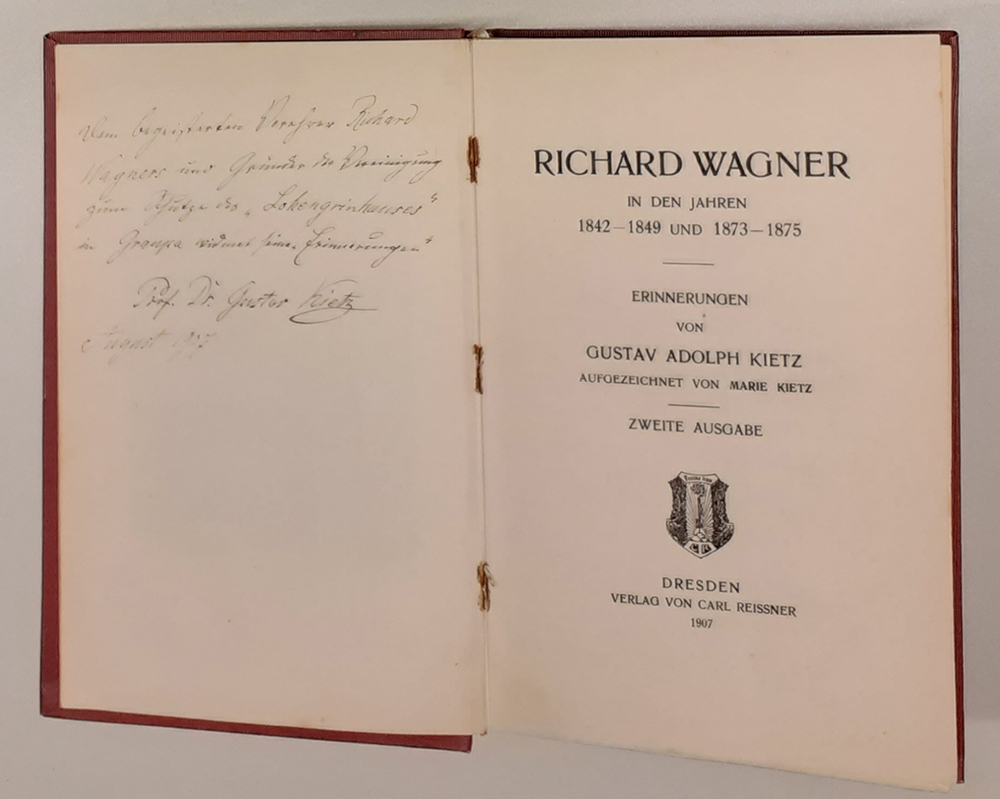 But who's to tell? It could be that this little address slip was originally attached to Richard Wagner's letter to Ernst Benedict Kietz of 13 February 1850. It could also be that Wagner wrote the address on the note and sent it to his friend via a third party. Whichever is the case, the note slip was preserved with other mementos and was deemed significant enough to be kept and eventually donated to Graupa.
No one can claim this is a sensational object. It does not grab the eye or provoke a rush of excitement. And there certainly are other exhibits in Graupa's Wagner Museum today that leave a greater impression on the beholder. But that said, the slip nevertheless conveys vital historical information on Wagner's location and his travels. It tells a story or even stories that are interesting to explore further. The desire has to be there to discover them in the first place; only that way do we get a foothold on larger chapters in the composer's history.
Katja Pinzer-Hennig

Katja Pinzer-Hennig has a degree in cultural studies and has worked at various Saxon museums, including as a museum docent at the Staatliche Kunstsammlungen Dresden and, from 1993, as a research assistant at Schloss Weesenstein and Albrechtsburg in Meissen.
She has been a curator at the Richard-Wagner-Stätten in Graupa since 2008, where she is custodian of the collections and is responsible for exhibition curation.