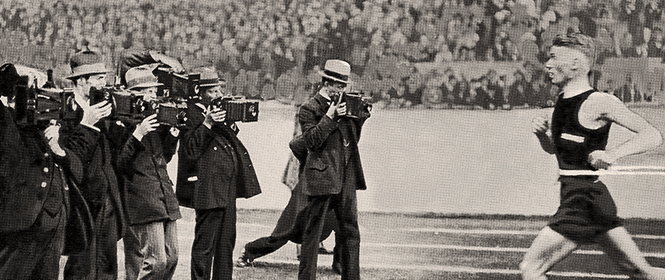 Press, Pictures and the Public – On the Shifting Value of Photography in the Digital Age
19 August is World Photo Day, celebrated across the globe. It was founded by Australian photographer Korske Ara in 2009. Ara chose the date because 19 August 1839 is the day when the French government granted the Académie des Sciences and the Académie des Beaux-Arts in Paris the patent for the daguerreotype, and the Academies then made the process available to the general public in a live demonstration before a crowd of spectators. With this in mind, our columnist Nadia S. Zaboura has decided to delve into the question of the contemporary value of photography in our digital age.
"The fundamental event of the modern age is the conquest of the world as picture." Martin Heidegger
The press sure doesn't have it easy right now. A wave of seismic shifts has rocked the fourth estate and its mission of independently providing and distributing information. The changes to which the national and international media landscape is being subjected present the sector with both risks and opportunities. They could destabilise democratic structures, but they could also lead to their reform. They could make the flow of content more transparent, but they could also make them more opaque, obscured. And they could uniformly tie up the interpretation of the world into information monopolies, but they could also lead to a diversification of the perspectives it represents.
Press Photography: On Camera Angles and Building Trust
These developments become particularly evident when looking at one particular discipline: press photography. If a purely text-based press was the norm up until 1880, nowadays it is impossible to imagine publications without photographs. If you think about any newspaper, magazine or news site without pictures, you'd be confronted with endless, drab deserts of text, as far as the eye can see.
At the same time, the mind of the reader is continually yearning for context, and with it, for visualisation. In this vein, in her key work "On Photography", the writer and intellectual Susan Sontag identified that "an event known through photographs certainly becomes more real than it would have been if one had never seen the photographs."
With this, Sontag sheds light on an important dimension and relation between the press photographer and the audience – trust. Every glance is attended by an advanced investment of trust that the subject matter being depicted is indeed an authentic, genuine image of a real event. But where does pure documentation end and the staging of the image begin? At what point do we begin to speak of manipulation through the sheer force of images, and are there any binding criteria that lay down what can and cannot be shown, and how?
More than any other photographic discipline, press photography must re-walk this epistemological tight-rope, re-earn this trust with every click of the shutter, every choice of angle and framing. And this has been the case since the turn of the 19th century, as the advance of technology first made photojournalism possible, thus giving rise to the occupation of the press photographer.
Let There be Light! Flashes of Magnesium and Enlightenment
It is easy to recognise just how strong the link is between pictures, responsibility and history, and the significance of the influence that press photos exert as a medium of visual public discourse by looking at a few iconic images: Sonny Liston, sprawled on his back, with a victorious, energised Muhammad Ali swinging his red boxing glove above him. The "Tank Man": that lone man standing in front of a line of four tanks, captured by Jeff Widener on the day after the Tiananmen Square Massacre. John Dominis's powerful "Black Power Salute" of two athletes on the medal podium at the 1968 Olympics, or Dorothea Lange's complex photo "Migrant Mother", depicting an all too common fate during the Great Depression, more relevant now than ever.
These snapshots, components of our collective memory, all have one property in common: press photos have a particular way of visually condensing a complex point into pixels. They concentrate data, frame contexts and create and change history. —Which in turn demands a high degree of responsibility toward history and its interpretation.
In this context, the Greek etymological root of this occupation seems almost romantic, making the photographer, in the eternal moment of the image, a "drawer in light". If in the early days the photographer was still using flash powder (not without its hazards), and later on flash bulbs (lingering and blinding), in our current era, they have a whole range of options for shedding light on a scene – in both senses of the word. In contrast to earlier photography and its methods (such as dodging, or the use of Vaseline and nylon stockings to create softer tones), photos can be altered much more easily today. Thanks to post-production image processing with Photoshop, Lightroom and the like, this can be done on the screen much more quickly and with minimal effort.
And sometimes pictures take on a completely new meaning in this context. Thus, in "the age of mechanical reproduction", visual culture has created new frameworks: the once laboriously produced individual print has been complemented by digital mass commodities (stock photos) and mass-distributed photos, often without the possibility of verifying the image source. On top of this, professionals are increasingly forced to compete with autodidacts – potentially anybody with their own camera or even just a smartphone – and increasingly also with artificial intelligence, which can simulate images and image sequences, sometimes in real time.
New Formats, New Responsibilities, and an Ethics of the Image
Like the media more generally, press photography is in a state of upheaval. What is shown and what is seen are no longer primarily determined by the photographer, the editorial staff, or a publisher. The interpretive authority of yesteryear is being redistributed, and there are new players in the information business.
The democratic challenges of these developments are significant. The questions around the power of images are even more relevant and contentious: which social, political, and market players are tussling for influence over information in the public sphere, and what are their interests in the quest to shape public opinion? Which images create blindness in the reader because an important element is left outside of the frame, concealing relevant contextual information? And in an entirely practical matter: what significance do static print photographs still have, while on the web, new image and news formats are spreading rapidly? (A particularly powerful example being GIFs – those little image sequences which contextually broaden still images, but also shift meaning onto the most minimal gestures.)
In reflecting upon these questions, press photography is presented with an unrealised opportunity: it can once again become aware of the fact that it is never pure documentation, but always also interpretation. It can interrogate its interpretive criteria, continuously examining and adapting them according to the context. It can decide against overhyped subject matter, and focus instead on new situations away from established political and social arenas, on surprising perspectives. (This is precisely what "street photography" seeks to do, as a movement of authenticity, of the moment.)
And what's more, a transparent, authentic form of photojournalism can arouse a new kind of trust. Press photography is reinventing itself as a creator and curator of photos with high demands in terms of quality, and is evolving into a companion through the continuous, rising flood of images and meaning. Thus, trust becomes a valuable commodity and orientation marker; trust as an old and new selling point amongst the commercial gatekeepers who decide what can be seen and what cannot (consider the example of Facebook's controversial censoring of the image "The Terror of War" by Nick Út, when it temporarily banned the photo of children running away after a Napalm attack, not far from Saigon).
The first-hand respect for images leads to the development of fertile ground for a new ethics of images and curation. And if all goes well, this will automatically lead to increased observational competence, or "media literacy", in the viewers. Perhaps we can then return to a method of seeing which Schiller described in his 1789 poem "The Artists" as something where "pensive contemplation dwells".
The Deutsches Historisches Museum is offering a special chance to pensively test out your own gaze and sharpen your observational skills on 345 selected images of press photography in its exhibition "The Invention of Press Photography".
References
• Walter Benjamin – The Work of Art in the Age of Mechanical Reproduction
• Georg Kurscheidt et al. – Schillers Werke: Nationalausgabe: Historisch-kritische Ausgabe
• Susan Sontag – On Photography: Essays
Nadia S. Zaboura

is a freelance strategy and communications consultant and event moderator specialising in the field of economics, politics, and research. In addition to strategic and location consultancy in the markets of media, IT, games and health, she provides interdisciplinary expertise for the digital economy and society – as a specialised moderator and speaker (Fraunhofer, ZDF, ZKM, BMFSFJ etc.). In addition to this, Nadia S. Zaboura regularly manages and curates leading congresses (including SXSW Interactive, CREATIVE.HEALTH, Gamescom Congress).
In 2015 she was appointed to the European Commission as an evaluator. In this function, she makes decisions on Horizon 2020, the European Framework Programme for Research and Innovation. Zaboura has previously served as the jury foreperson and a jury member for the Grimme Online Award (2012–2015), and as a jury member for the German Radio Prize (2013–2015).
Her portfolio, current projects and texts can be found at: www.zaboura.de.