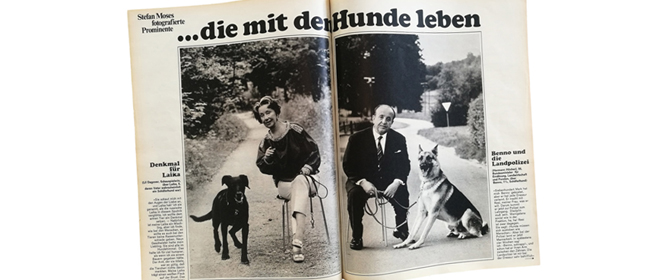 Stefan Moses – Up Close and Animal
Miriam Zlobinski | 13 March 2019
Stefan Moses (1928–2018) was one of Germany's greatest postwar photographers. As part of the exhibition 'The Exotic Country', the DHM will be showing his reportage photography until May 12, 2019. In this DHM blog essay, Miriam Zlobinski describes Moses's work at the news magazine stern, revealing how he made his well-known sitter-with-dog portrait series.
'From the kitchen table to the museum' could describe the trajectory of many highly regarded photographs now exhibited in the art world. By the late 1950s, photojournalism in Germany had become an attractive, even glamorous profession. Insatiable public demand for novelty, for stories from near and far, both everyday and exotic, allowed many photographers to develop an impressive body of work. Stefan Moses was one of them.
In 1948, Henri Nannen launched the magazine stern, where he initially led an editorial team of just four people. At the time, Moses was working as photographer for the National Theatre in Weimar, where he had been hired a year earlier. When it was launched, stern had an Allied press licence, a requirement to publish, but little else. The magazine's photographs were largely taken from the press agencies authorized to operate in Germany. The new crop of German magazines looked to foreign news magazines, especially the American magazine Life, as both an inspiration and benchmark. Competition between magazines centred on print and design quality, which could make the difference between success and failure during the reconstruction of the West German media landscape, which had been devastated not just by severe wartime restrictions but also censorship and co-option under the Nazi regime in the few years of 'peacetime' before that. To be a magazine photographer in the early years of new republic was to have a well-paid, prestigious job.
In 1950, Moses moved to Munich, becoming a freelance photographer for illustrated magazines including Neue Zeitung, Revue, Das Schönste and magnum. As a profession, magazine photography was relatively open to newcomers, and photographers' professional networks often overlapped. One of Moses's Munich neighbours was Herbert List, who made artistic photo-essays for the magazine Kristall and also taught Max Scheler, later photographer with stern. The 1956 uprising in Hungary became a meeting point for many international photographers: Rolf Gillhausen was in Budapest, covering the events for stern, as was Moses, whose work appeared in Neue Revue and Quick.
Competing with Television
During the 1950s, stern became a genuine mass market magazine. It kept up with the times, increasingly looking to photography to help it compete against television. Photographs could serve as visual commentary, but were also a form of narrative in their own right. New technology meant images could be printed to a higher quality. As Nannen put it: 'You have to throw money out the window for it come back in through the door.' With circulation and advertising revenues increasing, stern's founder wanted to attract the best photographers in Germany to the magazine. Moses began working for them in 1961, delivering reports from New York, South America, Israel, and Asia. Travel may have been a professional duty for photographers at the time, but it was a privilege most West Germans did not share – only 28% of them could afford a holiday in 1960, with just half that figure travelling abroad. Although stern's covers and many advertising images were in colour, most photographs of foreign locations remained in black and white until the late 1960s. Moses had no problem with black and white: 'colour drowns you', he would tell interviewers.
As his fellow photographers travelled the world, Moses increasingly concentrated on Germany. Stern's photographers all had their own approaches and styles, but human interest was their common denominator. Beyond the magazine, their photographs were exhibited at the World Photography Exhibition (1964/68), a collaborative show primarily organized by several museums across West Germany. Illustrated magazines became known for making connections between (ostensibly) private and public life. Themes and photo-series were often 'to be continued': spilling over several editions. Life carried double-page spreads featuring Philip Halsmann's famous 'jumps' (portraits of celebrities in mid-air), as well as the portrait series of Richard Avedon and Irving Penn. The photographs reflected their subjects' personalities, but also the photographer's authorial concept. As a stern photographer, Moses worked on the kind of news reportage that was crucial to the magazine, but increasingly he went further, developing new forms of visual narration. For example, his series 'It's Time to Lift Some Weights' (22/1964) showed politicians posing with a wooden dumbbell. The prop lent the portraits an unfamiliarity, spontaneity and humour lacking in typical depictions of politicians, while also highlighting the subjects' individual personalities. Series like 'Neighbours', 'The Germans' and 'The Great Old Ones' offer sympathetic encounters with sales girls, tradespeople and artists. Later Moses explained his interest in people with a quote from Novalis: 'Every human being is a little society'.
People and Dogs, Side by Side
A good photo is one that does not over-narrate. It tells only a certain part of a bigger story, transporting us and touching us with emotion. It creates a personal bond, as seen in Moses's smaller series 'Celebrities Who Live With Dogs' (31/ 1968), in which normally glamorous celebrities are posed outdoors, often sitting on a stool in the street. The double-page spreads radiated curiosity, interest and amused attention, all arranged by the man who called himself – sometimes even signed himself – 'Tomcat Moses'. The pictures made clear how the mutual fascination of animals and humans can bring out a surprising resemblance between them.
Unlike Life's 1944 series 'City Dogs' (1944), Moses's work showed how well-thought-out portraits can affect us as viewers. Looking at the photos, we are scrutinized by both dog and master or mistress. The impact of the photographs also owed a lot to the work of picture editors and graphic designers, who specified the commissions and selected the images, then arranged them in specific order. The viewer enters into a deliberate game: heads nod and pages turn, and many dogs bow their heads when we look at them, even reproachfully.
Together, image and text created an impression of boundaries crossed. In the words of German comedian Loriot (the photographer's friend), Moses was able to 'use psychological and hypnotic means to restore lost naturalness to humans and other vertebrates'. Moses's 1988 series 'The Great Old Ones in the Forest' was of an almost abstract size and significance, but his encounters with dog owners seem far more spontaneous and approachable. The images may look effortless, but they required patience and vigilance, as well as careful planning, arrangement and collaboration.
'Taking photographs is hard, being photographed is even harder',
Moses said in later interviews. In the early 1970s, he turned his back on stern and on illustrated magazines in general, choosing instead to concentrate on books, exhibitions, and the long-term projects we see on gallery walls today. But if we look through the illustrated magazines of that older era, we see the work of an artist who represents approachability, a virtue he most likely possessed from day one.

© Privat


Miriam Zlobinski

Miriam Zlobinski works as an independent curator. She completed her doctorate at the Department of History at the Humboldt University with a dissertation on 'The Political Image in West Germany: A Critical Approach to Collective Image Memory, Using as an Example the Photojournalism of stern Magazine'. A graduate of the photo editing programme at the Ostkreuz School of Photography, in 2017 she founded the interdisciplinary working group Foto:Diskurs. She is an elected member of the German Photography Society (DGPh). In 2018, she received a 'Small Research Grant' for her work from the Chancellor Willy Brandt Foundation.