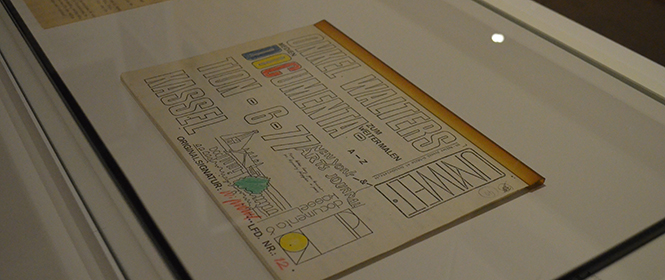 What's That For? A Colouring Book from documenta 6
Alexia Pooth | 8 September 2021
Walter Prankl was not on the official list of featured artists at documenta 6, but his Media Documentation – To Colour In nevertheless made him an integral part of the show. Dr. Alexia Pooth, research assistant for our exhibition "documenta. Politics and Art", explains what Prankl was after.
'Sincerely open for discussion'
Uncle Walter's Media Documentation – To Colour In, a colouring book from documenta 6
'Kassel offers art for everyone, fun and aggravation for many,' read the headline to a 1977 review of documenta 6 in the magazine Stern: an assessment that both participating artists and visitors likely shared. The turmoil unleashed by d6 and the early days of this 'monster show of contemporary art' (Mannheimer Morgen) can be reconstructed in photographs, television broadcasts, and news releases – in publications that run the gamut of opinion, from the socialist Roter Fahne to Playboy. But that's not all: it can also be traced by means of a very own documenta colouring book bearing the title: Onkel Walters Mediendocumentation – zum Weitermalen. Held together by a plastic clip, this collection of black-and-white sketches and text commentary comprises just under 30 sheets. The booklet is captivating because the cursory drawings of iconic d6 exhibits – for example Joseph Beuys' Honey Pump (Honigpumpe) – suggest immediacy; the notebook invited one to respond creatively and visually to the documenta events, while the written commentary and the original signature – w. prankl – tip us off: much more than mere 'documentation', this colouring book from 1977 is itself a work of art.
Research quickly reveals who was behind the pseudonym 'Uncle Walter': it was none other than the Austrian architect and mixed-media artist Walter Prankl (b. 1935). A cultural commentator, art educator, and public-relations man, in the 1970s Prankl developed an aesthetic concept that he called Umweltdesign (UD or 'environmental design'). As is evident in the colouring book, with UD Prankl sought to visualize current cultural happenings 'with verve', to humorously illustrate that which 'factual documentation captures only insufficiently', and thus enable people to form their own opinions freely and associatively.[1] Although his (unofficial) participation in documenta was never repeated, Prankl continued to produce documents that to this day remain visually unique: many other colouring books and above all his environmental design journals in folding-poster format, for example on the Venice Biennale.
As becomes apparent when flipping through the colouring book (with each subject assigned a different letter), Prankl was not concerned with objectivity. Instead, he sought to capture what took place in front of, behind, and in part on the scenes at documenta. The collection of loose sheets is thus characterized by a refreshing sense of simultaneity: here cultural personalities, the avant-garde, and outsiders to the (Western) art establishment stand side by side as a matter of course, whether they are street artists, Wolf Vostell, or the six artists from East Germany. As the colouring book documents, the first and only time participants from the 'other' Germany were officially invited caused a 'commotion and trouble': West German painters Georg Baselitz and Markus Lüpertz withdrew their works prematurely, while seven former East German artists appealed to Erich Honecker to lift professional bans on artists and release incarcerated fellow artists.
That Prankl was particularly interested in the East German artists' participation can be observed in no less than three sketches: his depiction of the 'SE6 from the GDR', found on sheet A, his sketch of the protest led by the so-called 'disobedient painters', found on sheet L, and finally the conversation between West German artist Joseph Beuys, East German artist Werner Tübke, and East German art historian Lothar Lang, documented by sheet W. The latter is particularly insightful: Prankl sketched the protagonists of this German-German conversation, evidently reproducing snatches of their discussion, in quotes. While the information he jotted down seems arbitrary at first, statements such as 'everyone is dependent on the others', 'Böll*Biermann = conflict material', or 'there's no use for ideology' quickly make it clear that Beuys, Tübke, and Lang were discussing the inner-German conflict and that Prankl was evidently given the opportunity to record it. The participants' original signatures, as well as that of the Bremen gallery owner Ilse Herzt, are further proof that this conversation in fact took place. Prankl's colouring book thus becomes a piece of testimony.
Prankl reproduced the signed and numbered collection of loose sheets upon request, distributing it by mail and in person. The present copy was once owned by Lothar Lang (1928–2013). It was no doubt very important to him – after all, Lang was the coordinator of the GDR's contribution to documenta. Prankl dedicated the current edition (no. 12) to him, adding the comment, 'Sincerely open for discussion'. But Lang's assessment did not come until 32 years later: in his 2009 memoirs, Lang recollected the d6, Beuys, and Tübke. Although it was with words and not a coloured pencil, Lothar Lang thus fulfilled the purpose of this small, artist's book: he 'coloured in' the outlines on the pages with the memory of his own experience. Prankl referred to this activity as Zeitgefährtenschaft (or 'companionship of the times'). Lothar Lang, who after 1955 was regularly granted permission to travel to West Germany to visit documenta, was indeed a contemporary witness.
[1] see https://www.kultur-punkt.ch/diskurs-platon-akademie-4-pa4/pa4-suchworte-a-z/pa4-suchworte-u/umweltdesign-akademie-uda-prankl-i-iv.html [2.7.2021]