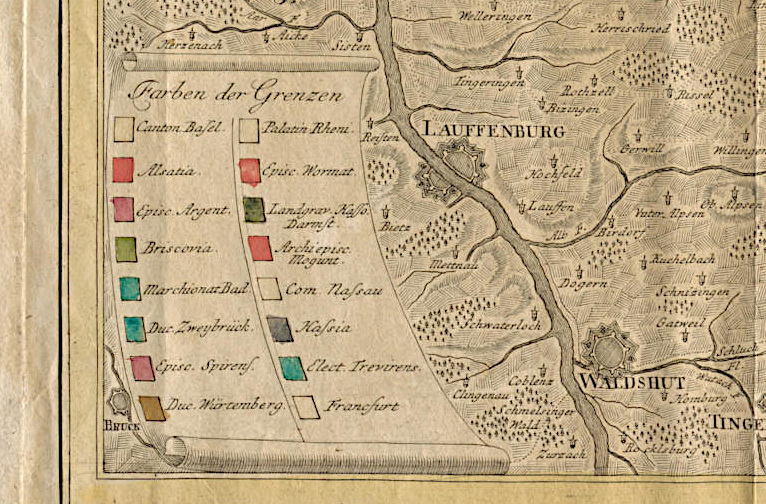 Ganz neue Vorstellung des Rhein-Stroms von Basel bis Coblenz. Nebst innbeschriebenen Feldzügen von den Jahren 1792 und 1793 (Detail), Kupferstich, Karte von Peter Josef Moriz Pedetti, Nürnberg, Deutschland 1794, DHM Do 54/194
Marked Territories
The map is coloured accorning to borders, meaning the territories are delineated by different coloured lines, not as areas marked by colours.
Until around 1800, the Homännische maps were black copper engravings that were handpainted with watercolours. Later, steel engravings and lithographies (colour printing) became widespread.
The legend showing the border colours presents the areas and their border colours in the direction of riverflow from left to right. Some border colours, such as Basel's, are so faded that they can no longer be ascertained.
Transcription of the latin abbreviations and the corresponding German/English names
1. Canton Basel. - Canton Basel
2. Alsatia. - Alsace
3. Episc. Argent. - Diocese Strasbourg
4. Briscovia. - District authority Breisgau
5. Marchionat Bad - Margraviate Baden
6. Duc. Zweybrück –Duchy Zweibrücken
7. Episc. Spirensis. – Diocese Speyer
8. Duc. Würtemberg – Duchy Württemberg
9. Palatin. Rheini. – Electorate Palatine by Rhine, also Electoral Palatine
10. Episc. Wormat. – Diocese Worms
11. Landgrav. Hasso. Darmst. – Landgraviate Hessen-Darmstadt
12. Archiepisc. Mogunt. – Archbishopric Mainz
13. Com. Nassau – County Nassau
14. Hassia – Hessen
15. Elect. Trevirens. – Electorate Trier
16. Francfurt – Frankfurt