Exhibiton | I. Calvin and Geneva | II. The Confession | III. The Reformed Alliances

IV. Discipline and Republic | V. Iconoclasm and New Pictorial Worlds

VI. The Word of God | VII. The New Order of Life | VIII. Traditions
V. Iconoclasm and New Pictorial Worlds
Calvinism was perceived as an iconoclastic religion. The ban on pictures and sculptures of the saints as well as crucifixes was often radically implemented in the form of iconoclastic assaults. They were visible to all as a testimony to the consummated Reformation.
Now a self-assertive middle class, considerate of representation, took the place of ecclesiastical institutions in commissioning artworks. At the same time new themes were discovered for the visual arts. This could be observed above all in the Netherlands, where architectural pictures, still-lifes, landscape painting and representations of domestic life were created for a prosperous clientele. Such previously little esteemed genres as floral still-lifes and landscape paintings were now highly prized in the 17th century, and new art forms such as interior painting came about.
As captivating as these pictures are in their precise rendering of details, to provide an authentic representation of everyday life was seldom their only concern. Rather, the deliberate arrangement of the works was religiously charged with scenes from the Old and New Testaments or recalled the transience of earthly life. Their motifs convey ideal or moral concepts or such virtues of a righteous life as cleanliness and order.
Paintings of the interiors of Reformed churches in particular can be interpreted in the sense of a profession of faith. The introduction of organ music into the Reformed liturgy was a bone of contention between liberal and orthodox Calvinists. The latter rejected it categorically and advocated the destruction and removal of old organs from the churches. The prominent depiction of organs in paintings was therefore seen as a kind of confession of faith.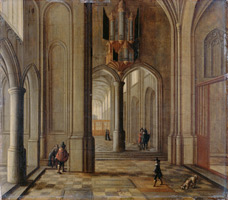 Innenansicht einer gotischen Kirche
Susanna van Steenwijck (gest. nach 1653)
1639
Anhaltische Gemäldegalerie Dessau