Exhibiton | I. Calvin and Geneva | II. The Confession | III. The Reformed Alliances

IV. Discipline and Republic | V. Iconoclasm and New Pictorial Worlds

VI. The Word of God | VII. The New Order of Life | VIII. Traditions
VI. The Word of God
As a result of the ban on pictures of the saints, Reformed churches were very plain in their appearance. The only decoration was in the form of panels with the Ten Commandments or the opening words of the Eucharist. The interior of the church was oriented toward the pulpit, from whence the Gospel was proclaimed. The choir lost its liturgical function. The altar was replaced by a simple communion table, which was often only set up when the Eucharist was taken and had neither candles nor a crucifix, the image of Christ Crucified, as decoration.
The Reformed understanding of the Eucharist placed new demands on the form of the liturgical utensils. Now that the Lord's Supper was celebrated in both kinds, i.e. with bread and wine, larger wine pitchers, chalices or simple beakers were needed. In place of the wafers of the Host, broken white bread, the symbol of the Body of Christ, was served to the Eucharist congregation on large bread platters. Only those people could partake of the Holy Communion who were certified beforehand by the Elders to be leading an irreproachable moral life.
The communication of the Word of God is the core of Reformed theology. The sermon was held in the local language, which helped to make the 16th century an epoch of Bible translations. The Geneva Psalter represents the most outstanding artistic achievement of the Reformed Church in language and music. Théodore de Bèze and the French poet Clément Marot were largely responsible for the translation of the Old Testament Psalms of King David. Set to music by Jean Goudimel and others, the Geneva Psalter became the hymnbook of the Reformed Church and was later translated into other languages.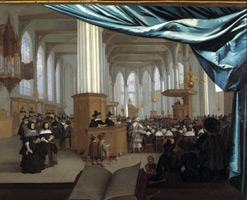 Gottesdienst in der Nieuwezijds-Kapelle in Amsterdam
Hans Jurrianensz. van Baden (1604–1663) zugeschrieben
um 1658
Utrecht, Museum Catharijneconvent