Exhibiton | I. Calvin and Geneva | II. The Confession | III. The Reformed Alliances

IV. Discipline and Republic | V. Iconoclasm and New Pictorial Worlds

VI. The Word of God | VII. The New Order of Life | VIII. Traditions
VII. The New Order of Life
Calvinism had a share in shaping a new order of life. This applies to the order of church and society as well as to the principles of moral conduct.
For Calvin the Church should be in a position to be a tribute to God in the world. It does this through strict order and faithfulness to God's commandments. The centre of the life of the congregation is the Eucharist. It is a sign of the presence of Christ and is celebrated in the memory of the covenant entered into between God with Man. At the same time the Eucharist substantiates and renews a community of peace among the members of the congregation.
Calvin described the structure of the congregations as consisting of the four offices of teachers, pastors, elders and deacons. This proved to be a successful organization for a threatened Church. Many of the Calvinist congregations were living in exile. With the election of elders and deacons, laymen were integrated into the ecclesiastical order. The secular and the spiritual entered into a symbiosis in the leadership of the churches.
The individual submitted to strict discipline in his moral conduct, for which he had to give account before the congregation. But Calvinism also promoted the self-confidence of the congregation members. Important decisions were not predetermined by a hierarchy of church leaders, but rather each one had to be discussed and resolved anew.
In Calvinism assembly and election were firmly established factors for the maintenance of order in the community. The idea of the covenant carried over into society had a far-reaching influence on constitutional law and the law of nations.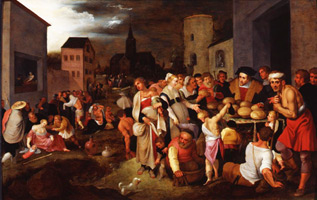 Die sieben Werke der Barmherzigkeit
Frans Franken d.J. (1581–1642) zugeschrieben
Antwerpen 1601/1616
Deutsches Historisches Museum