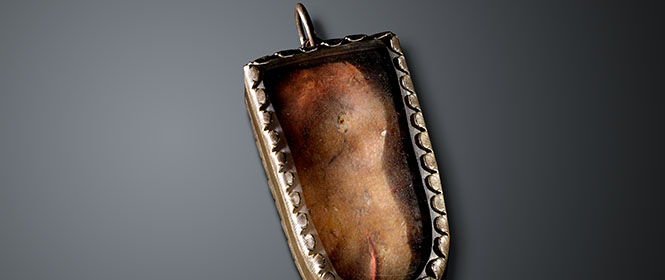 A STAND AGAINST CALUMNY
The story of how a tongue-shaped amulet came to be in Deutsches Historisches Museum.
A slight shudder comes over us as we study this unusual pendant – an amulet in the shape of a tongue. Set in silver and appearing behind protective glass, the inside of the amulet contains a wax tongue in a light greyish brown colour with a red incision at the tip.
It was probably made to mark the Catholic Church's canonisation process for John of Nepomuk (1350–1393) – a process that involved opening his grave in 1719. The background to the story is a gruesome one: King Wenceslas IV, who suspected his wife of infidelity, ordered John of Nepomuk to divulge the secrets of the confessional. He refused, however, and paid with his life. Legend has it that the priest was drowned in the Vltava river. When his grave was opened 326 years later, John of Nepomuk's tongue was said to have been preserved – a holy sign of his integrity. In recognition of his loyalty, Pope Benedict XIII canonised him in 1729, unleashing a wave of veneration.
The reverse of the tongue-shaped amulet features a primatial seal that officially attests to its power. The Catholic Church consecrated amulets that were then said to provide believers with protection and healing, defend them against calumny and defamation and preserve their good name. In the future permanent exhibition of Deutsches Historisches Museum, this newly acquired piece for the Everyday Culture Collection may soon find its place in the Religion and Piety category.