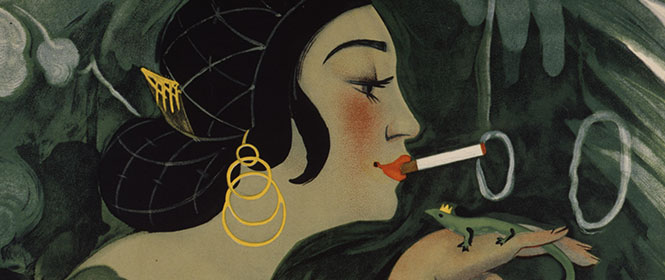 PUFF BY PUFF: HOW CIGARETTES WERE EXTINGUISHED FROM PUBLIC LIFE
A few weeks ago, gruesome photos started appearing on cigarette packets to discourage smokers from lighting up. They are a particularly attention-grabbing way of tackling tobacco consumption, but they are certainly not the first approach that has been tried. The history of bans and campaigns against smoking in Germany goes back well into the previous century.
The party mood in the gleaming white 1980s apartment has hit rock-bottom. The disappointed host rushes into the kitchen with a tray full of ashtrays and confides in a girlfriend: 'Just look: all the cigarettes have only been half-smoked!' The guests are clearly not impressed with the the ones they've been offered. But her friend has an idea. She suddenly opens a cupboard full of bright red cigarette packets. 'Here, take these!' The party has been saved, with all the guests happily smoking away.
These scenes from an early 90s TV commercial for cigarettes seem grotesque – and not just because an ad like this would no longer be permitted. Smoking has long since ceased to be the done thing. The ad illustrates the extent to which smoking has disappeared from the public arena in recent decades. People started banishing cigarettes much earlier, however. We have summarised the main milestones.
1910–1920
A cigarette will kill you slowly – or quickly. Any solider who decided to light up in the trenches of World War I was risking certain death, as the embers – which glowed brightly with every puff – would attract enemy sharpshooters. Therefore, soldiers were forbidden from smoking in the trenches.
1930S AND 1940S
The National Socialist notion of racial and physical purity gave rise to what was, at the time, the world's largest anti-smoking movement. It's key proponent: Adolf Hitler. In spite of propaganda, annual consumption in the German Reich rose from 570 to 900 cigarettes per capita between 1932 and 1939.
Therefore, the Nazis hardened their non-smoking policy, with the focus being on the role of 'the German woman', who was seen first and foremost as a mother by the party. Pregnant women were no longer entitled to tobacco coupons, nor were they sold to women under 25.
Furthermore, the 60 largest cities in the German Reich banned smoking in trams in 1941. From July 1943, minors were no longer allowed to smoke in public, whereas the cigarette ration was cut to six cigarettes a day in the military. If solders went with out, they received chocolate or additional food. As a consequence, soldiers and civilians alike smoked much less. From 1945 onwards, the drive for non-smokers subsided. As the German economy began to recover, there was a resurgence in consumer appetite – and this also extended to smoking.
1970S
West Germany only began re-examining the issue of protection for non-smokers in the early seventies, with an important debate held on 18 June 1974 in the Bundestag in Bonn. This led to a reform of food law and a ban on the advertising of tobacco products on TV and radio. This change had been spearheaded since 1972 by the Federal Minister for Youth, Family and Health Katharina Focke, a Social Democrat who was a chain smoker before her time in office. In East Germany, there was a smoking ban in restaurants at lunch and an anti-smoking work group. Nevertheless, the tobacco industry of the socialist state doubled production levels to 30 billion cigarettes between 1970 and 1990. In 1990, Der Spiegel remarked: 'the greater the indignation amongst the people, the more cigarettes were produced.' At least the TV detectives in East Germany were role models, not being allowed to smoke an aromatic Salem cig whilst on duty.
1990S
'Smoking causes cancer' – on 22 January 1997, the German Federal Constitutional Court issued a definitive ruling that smoking causes illness and that warning notices on packs were urgently needed. Furthermore, the Court upheld the upper threshold of 12 milligrams of tar in cigarette smoke introduced by the Federal Government to take effect from 31 December 1997. In 1998, Lufthansa responded to customer wishes and issued a smoking ban on all flights, explaining that two-thirds of passengers were in favour of non-smoking planes. In the same year, draft legislation to protect non-smokers in public places was rejected in the Bundestag, with 51 per cent of MPs voting against the proposed legislation, which was tabled by Green MPs Gerald Häfner, Volker Beck and Cem Özdemir.
2000S
In 2003, the European Union banned 'light' cigarettes. Since then, cigarette manufacturers have no longer been allowed to advertise their products as 'mild' or 'light'. Just a few months later, large and clearly legible warning notices became mandatory on cigarette packs. What's more, EU Member States were given the go-ahead to force packs to include deterrent images, although Germany refrained from using this option. In 2003, the Federal Republic of Germany also appealed – unsuccessfully – against a European Union advertising ban in print media and at sporting events. In 2007, non-smoking legislation was introduced in Germany after all, prohibiting smoking on buses and trains as well as in official buildings. The Federal States followed suit in 2008, enacting smoking bans in public buildings and restaurants – albeit with numerous exemptions. Bavaria therefore tightened up its laws in 2010, with almost two-thirds of the state's population voting for a smoking ban with no exceptions.
2010 ONWARDS
On 20 May 2016, a new law governing tobacco products came into force in Germany, based on the corresponding EU Directive. The most significant change is that 'shock photos' of diseased lungs and decaying feet have been compulsory since the end of May. Manufacturers do have the right to sell existing stocks, however. The law also contains a ban on flavoured cigarettes and advertising restrictions in relation to e-cigarettes.
AND IN THE FUTURE?
From 2020 onwards, the cigarette industry will lose one of its last remaining methods of acquiring new customers. The German Federal Government has decided to ban cigarette advertising in cinemas and on billboards. It will no doubt not be the last measure taken to banish cigarettes. In France, for example, all cigarettes will have to be sold in plain packaging from 2017.