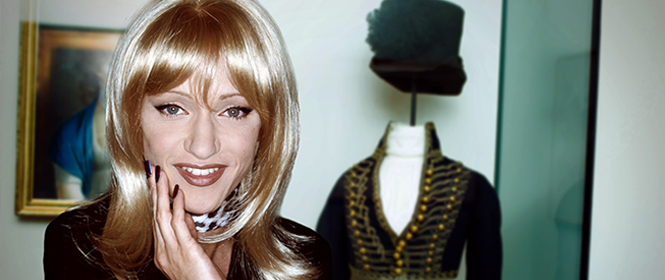 'I'M IMPRESSED BY THE STERN GLAMOUR OF QUEEN LOUISE'
My favourite piece of history: drag queen Biggy van Blond presents her favourite object at Deutsches Historisches Museum.
My favourite pieces at Deutsches Historisches Museum are a riding jacket and riding hat that belonged to Queen Louise of Prussia. They were two of the favourite garments of Queen Louise, who was a tremendously gifted and fearless rider. Her husband claimed that she was 'never more beautiful than when on horseback'. I am particularly impressed by the stern glamour of the outfit, which dates back to about 1800. I can well understand the appeal that it held for Louise.
I did not choose the piece at random, as I have a penchant for striking outfits. At my drag shows at Berlin's BKA-Theater, I wear glitzy and glamorous ensembles, sometimes in leopard print. Louise and I would have got on like a house on fire when it comes to fashion. Even though I usually go for modern costumes for my stage shows, I could easily imagine performing in a historical outfit like this one.
QUEEN BIGGY I? NOT A GOOD IDEA
I am fascinated by Louise of Prussia as a person. She didn't stand on ceremony and was admired by many of her contemporaries due to her grace and poise. In a sense, she was Germany's first-ever It girl. It's a shame that she didn't make it past 34.
I still wouldn't have wanted to change places with Louise. I would not have been a great monarch as Biggy I. I have a loose tongue and would have drunk copious amounts of champagne at the receptions – so I probably would have always been causing national scandals.
The role of the black sheep of the family – as played by Friederike, Louise's little sister – would have been much more up my street. She had plenty of men and never quite lived up to her family's expectations. I would love to have been an enfant terrible like her – the 'other princess' who loved life and her people. My subjects wouldn't have been able to get enough of me and my scandals.
PEOPLE LIKE MONARCHS WHO AREN'T PERFECT
It's nice when monarchs strike a chord with their people. Nowadays, this usually happens when monarchs are not perfect – which is something people love. Even today, the aristocracy are still an excellent source of gossip and rumour. And even though I am very happy with our current system of government, it's a shame from the point of view of cabaret that Germany no longer has a royal family. It would provide me and my fellow entertainers with plenty of juicy material.