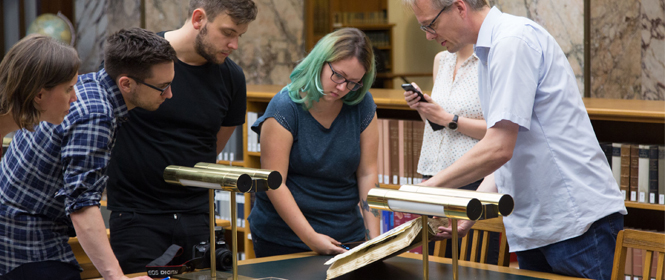 BLOGGERS TOUR IN THE LIBRARY
On 14 September 2016, we took selected bloggers on a late-afternoon tour of one of the less well-known areas of Deutsches Historisches Museum: the library's historic reading room. The site was previously home to the main counter hall of the Preußische Centralgenossenschaftskasse (Prussian Central Cooperative Fund). Few people are aware that this room, which is bathed in light and boasts beautiful ceiling mosaics, can also be used for private study. From 9 a.m. to 4.30 p.m., Monday to Friday, it not only serves as the museum's in-house library, but also as a public German history library that holds approximately 250,000 volumes. Its history can be traced back to two grand institutions: the Königliches Zeughaus (Royal Arsenal) – which subsequently became the Staatliches Zeughaus (State Arsenal) – and the Library of the Museum für Deutsche Geschichte (MfDG) in the former GDR. It boasts an outstanding collection of old books from 12 centuries.
For the guided tour of the reading room, Dr Matthias Miller, Head of the Library and Head of the Collection of Manuscripts and Old and Valuable Printed Materials, put selected objects from his collection out on display. They represent a good cross-section of the library's collection and we are able to get very close to rarities that can normally only be seen behind glass at one of the museum's exhibitions. These gems include Fragment P of the Heliand manuscript in parchment from ca. 830, the first edition of Max und Moritz dated 1865 (which is famous for a misprint in the first few lines) and the small yet poignant rhyme Zehn kleine Meckerlein ('Ten Little Grumblers'), which tells the story of how ten dissidents opposed to the Nazi regime all end up in Oranienburg concentration camp.
Matthias Miller also took us down into the basement of the library, which was once the strongroom of the Preußische Centralgenossenschaftskasse. It is now home to the book depository with its long rows of shelves, where the precious items of Deutsches Historisches Museum are stored. Matthias Miller explains the conditions required to preserve the books and the classification criteria by which they are sorted. As Matthias Miller had explained with a grin at the start of the tour, the bloggers had to do without Internet access once they passed through the thick vault doors that guard this unique place.
More about the tour you can read here:
postmondän, "Bücherschätze in der Bibliothek des Deutschen Historischen Museums"