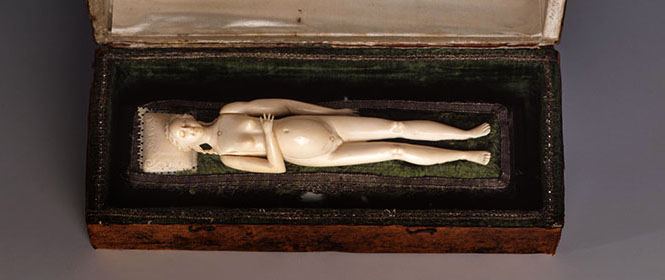 A PREGNANT WOMAN IN IVORY
In our 'What's that for?' series, we take you on a journey through the scientific history of the 18th century and introduce you to unexpected, strange and surprising objects from our permanent exhibition.
She seems so small and dainty in the large display case and can easily be missed next to the other exhibits on the subject of marriage, family and baptism. This pregnant woman is an anatomical demonstration model dating back to ca. 1680. What makes it so special is the material from which it is carved: ivory. Owing to its sheen and natural composition, ivory was used as a bone replacement material in the late 17th century. At the same time, it is extremely brittle.
The abdominal wall has been removed, revealing the internal organs as well as the uterus and foetus. It can be identified as an anatomical model by the incisions in the kneecaps and the splayed little finger, not to mention the dimples that were a trademark of Nuremberg-based ivory carver Stephan Zick. His workshop was not only renowned for these kinds of models, but also for the production of anatomical eyes and models.
A COLLECTOR'S ITEM FOR ART AFICIONADOS
The excellent condition of this piece suggests that it was made as a collector's item rather than as an educational model for midwives and anatomists in the 17th and 18th centuries. Another hint that it may not have been used for study purposes is the rather inaccurate anatomy of the woman's internal organs.
The me Collectors Room on Berlin's Auguststrasse proves that objects of this kind still hold plenty of fascination for collectors. Here, visitors can admire the Wunderkammer Olbricht, which is home to collector's items from the Renaissance and baroque periods, including the educational model of a pregnant woman by Stephan Zick. When placed inside a cabinet of curiosities, this delicate ivory model makes quite a different impression than within the 17th/18th century birth and baptism section at Deutsches Historisches Museum.