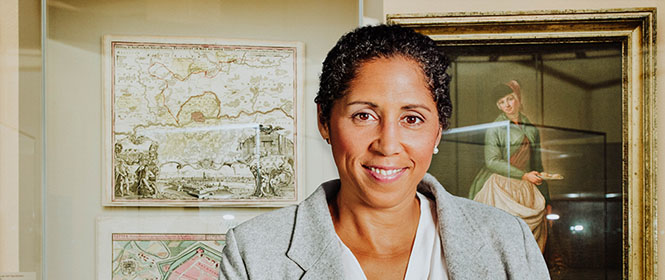 'Frankfurt and its cosmopolitan outlook have helped make me who I am'
My favourite piece of history: Steffi Jones, former professional footballer and current manager of the German national women's football team, introduces her favourite object at Deutsches Historisches Museum. 
'My favourite piece of history is a coloured copperplate print showing the Free Imperial City of Frankfurt in 1720. When this map was produced, my home city was a major trade and transportation hub – just as it is today. Where skyscrapers now tower into the heavens, one of Germany's largest collections of half-timbered houses once stood.
Frankfurt's multicultural tradition
Whether filled with skyscrapers or more modest wooden buildings, Frankfurt has always stayed true to certain fundamental values A cosmopolitan outlook was already a defining characteristic of Frankfurt in the early modern period, when the local Jewish population laid down roots and shaped the city, both culturally and economically. After World War II, Americans and migrant workers came to the city and helped to rebuild it. It is also thanks to this multicultural tradition in Frankfurt that I am vehemently opposed to racism and injustice and campaign for respect, tolerance and a peaceful society.
Celebrating World Cup success in front of the Römer
It is precisely these values that have accompanied me throughout my football career, which also started in Frankfurt – at SV Bonames, to be precise. Here, I spent many years playing in the male youth teams, where I learnt about discipline, passion for the game and true team spirit. The perseverance I learnt back then laid the foundation for my future achievements on the pitch, most of which I was lucky enough to celebrate in Frankfurt. I look back particularly fondly on the 2006 Champions League title with 1. FFC, which we sealed at the city's Frankfurter Volksbank Stadion, as well as the 2003 and 2007 World Cup titles, which we celebrated in front of Frankfurt's famous Römer building. Even as a little girl, I dreamt of standing there in front of a cheering crowd.
The return of old Frankfurt
Given everything that I have experienced in the city, it's no wonder that I feel at home as soon as I catch sight of the Frankfurt skyline. After all, the skyscrapers have a special place in my heart. They may well be getting some competition soon, as a part of the medieval old town, which was destroyed during World War II, is being faithfully rebuilt. I can't wait for the return of the old Frankfurt, with its amazing history.'