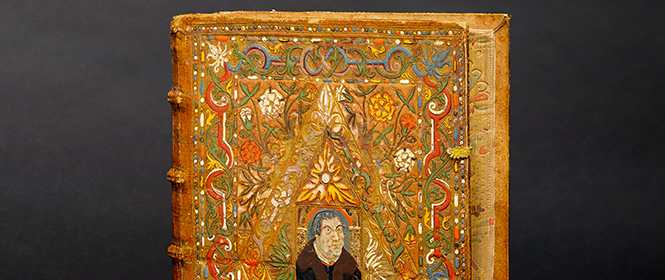 Duke Julius' "Corpus Doctrinae"
In our series "What's That For?" we explain what makes a collection of theological writings from the Reformation period so valuable for the Deutsches Historisches Museum.
It is, in fact, nearly impossible for a relatively young museum (the Deutsches Historisches Museum will be 30 years old this fall) to acquire "presentation copies" of texts, unique editions dedicated to rulers which are usually highly valuable. Originally part of historic princely library collections developed over decades, often centuries, these volumes are now found almost exclusively in national, state, and university libraries. This makes the purchase of the "Corpus Doctrinae", which lays out the theological doctrine of the Protestant faith for the Duchy of Braunschweig-Lüneburg, all the more valuable for the collection of the Deutsches Historisches Museum.
Julius, Duke of Braunschweig-Lüneburg-Wolfenbüttel, introduced the Reformation in his principality just two months after the death of his father, Duke Heinrich II of Braunschweig-Wolfenbüttel, one of the last defenders of the Catholic faith in northern Germany. Duke Julius commissioned the Braunschweig theologian Martin Chemnitz to oversee the visitation of all parishes in the duchy. Chemnitz subsequently developed the Braunschweig Church Constitution and compiled the "Corpus Doctrinae". Along with the duke's profession of the new faith, this volume primarily contains texts that represented the foundation of the Protestant faith and legitimized the new church. These include the "Confessio Augustana" (Augsburg Confession), the "Schmalkald Articles", and Luther's "Small" and "Large Catechisms", as well as other texts by the reformers Martin Luther and Philipp Melanchthon. The arrangement follows the tradition of Melanchthon's "Corpus Doctrinae", published in 1560 for use in the schools of Saxony and Meissen.
Its relevant contents, sensational binding, and excellent condition make this volume of church doctrine particularly special
The presentation copy for Duke Julius was printed by Konrad Horn in Wolfenbüttel and bound by the court bookbinder Lukas Weischner. The binding is decorated with large plate stamps and rich, coloured enamelwork, the gilt edge is punched, that is stamped, and painted with floral motifs. 51 large woodcuts distributed throughout the volume illustrate the text. These images, as well as all borders, decorative work, frames, and ornaments, are tastefully hand-coloured in muted tones.
The contents of the "Corpus Doctrinae" give it a particular relevance for the Duchy of Braunschweig, where the duke, as a late reformer, established his doctrine of faith only a short time before the publication of the last Lutheran statement of faith, the Formula of Concord. The richly decorated binding, however, is also sensational. A book box decorated with the ruler's portrait, which protected the volume and contributed to its excellent state of preservation, also survives.
The purchase of the "Corpus Doctrinae" was only possible because two copies of this volume exist. The other is now housed in the Herzog August Bibliothek in Wolfenbüttel. You can see the "Corpus Doctrinae" in the "Reformation" section of our permanent exhibition.