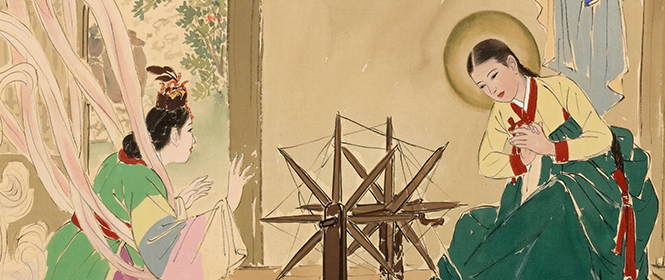 Christ in Korea
As part of our "What's That For?" series, Anne-Katrin Ziesak, curator and project manager of the exhibition "The Luther Effect: Protestantism – 500 Years in the World", invites you to discover the life of Christ – re-imagined in 19th century Korea.
Protestantism is booming in South Korea. Around 20 percent of South Koreans are Protestant. However, Christian art only plays a limited role in the country. A remarkable exception to this is the picture cycle, The Life of Jesus Christ by Kim Ki-Chang (1914–2001). In thirty ink-wash paintings, Kim depicts how Jesus's life might have looked if he had lived in Chosŏn-era Korea. This is the first time that the pictures have been shown in Europe.
The first scene of the picture cycle depicts the Annunciation of Jesus's future birth. Mary sits at a spinning wheel in a simply furnished room. She is wearing the traditional Korean costume known as hanbok, which consists of a wide dark-green dress and a short yellow jacket. Her long, braided hair is held in a red taenggi, or hairband. In the Chosŏn period, hair braided this way and adorned with a red hairband was typical of unmarried women from modest backgrounds. Mary is surprised by a sŏnnyŏ – an angel, or fairy-like creature from Korean folklore – who, standing on a band of cloud, appears on earth like the Archangel Gabriel to announce the Incarnation of her holy child. Framing the scene are the sliding doors of traditional Korean homes, clad with hanji paper and wood.
It is the encounter of different cultures, the simultaneous recognition of the familiar and the discovery of the completely new, which reverberate in Kim's painting. The picture cycle was created during the Korean War (1950–1953) after the artist had sought refuge in the south of the country. Kim experienced religious dreams and apparitions during this period, which inspired him to paint the life of Jesus. Kim Ki-Chang ranks among Korea's best-known contemporary painters. In his later work, this multifaceted artist turned increasingly to abstraction.
The Deutsches Historisches Museum is showing The Luther Effect: Protestantism – 500 Years in the World exhibition until 5 November 2017 in the Martin-Gropius-Bau. The exhibition illustrates the global diversity of Protestantism, featuring displays with examples from Sweden, the United States, Tanzania, and Korea. The exhibition will be open also on 31 October 2017.