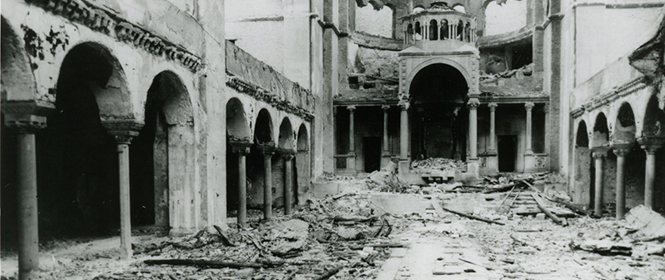 November Pogroms
Harry Kranner was only 12 years old, when on November 12, 1938, two Gestapo officers came to the family's home in Vienna – ostensibly in search for weapons. Harry's family was one of many Jewish households who experienced similar raids at this point. In most cases, the adult male family members were arrested and deported to the Dachau and Mauthausen concentration camps. Harry's uncle, Arthur, was one of them. Approximately 30,000 Jewish men in Germany, Austria, and Czechoslovakia were incarcerated. Harry recorded all those events in his diary.
Three days earlier, between November 9 and 10, the Nazis staged a wave of anti-Jewish violence unprecedented in scope and intensity. As a result of the "Kristallnacht," also known as the November Pogroms which even better reflects the level of atrocity, 267 synagogues and about 7,000 Jewish shops and businesses were destroyed. At least 91 Jews were killed. Unknown numbers of people were beaten and raped. The financial cost of the November Pogroms was approximately 400 million US dollars (the equivalent of more than 6.8 billion US dollars today).[1] The emotional trauma of the targeted group can never be estimated.
What was initially called a "spontaneous outburst of popular rage" in reaction to the murder of a German diplomatic official in Paris, Ernst vom Rath, at the hand of a young Jew of Polish origins, who was born in Hannover and whose family was expelled from Germany along with approximately 17,000 other Jews of Polish Nationality, Herschel Grynszpan, was indeed a meticulously prepared action aiming to awake even bigger fear among the German Jews and force them to leave the country soon after. Similar terror mechanisms – even if never played out on such a big scale – were carefully practiced at least since March 1938, when the Nazi Germany annexed Austria and exercised a range of brutal actions on the local Jewish population. Observing a lack of vehement objections from non-Jewish citizens, the Nazis exacerbated the legal and social situation of Jews in the following months. During Passover in April 1938, Viennese Jews were forced to clean streets of the capital while kneeling on their hands and knees. As it happened in Germany before, they were expelled from their professional positions and apartments. Their goods were stolen. In June, the violent actions moved to Berlin. Between June 13 and 17, the Nazi authorities intensified the raids on the local cafes. Even places in the most representative street of Berlin, Kurfürstendamm, which still remembered the thriving Kaffeehauskultur from the Weimar Republic, were not exempt from violent outbursts. Numerous Jews were brutally treated, including beatings. Approximately 2,000 Jews were arrested. On July 8, the Great Synagogue in Munich was demolished. The local Jewish community had only one night to save the holy scrolls from destruction – as it turned out– a luxury that many communities did not have later during the "Kristallnacht."
A direct consequence of the events were new lines forming in front of the foreign consulates in every major German city. People were frantically looking for a shelter from Nazi Germany. Despite their attempts, most of the countries in Europe and across the globe did not accept more than the allocated quota of Jewish refugees from Nazi Germany. Led by pragmatic reasons of economic burden for the society and ignoring humanitarian pleas from the side of international aid organization, countries like the United States, England, Australia, Switzerland, and those in South America did not accept additional visa applications. Only those Jews who had relatives in other countries and were lucky enough to receive affidavits confirming financial support could obtain a life-saving visa.
One of the most dramatic impacts of the November Pogroms was the initiation of the Kindertranport. As the social and legal position of Jews become more and more fragile, parents of 10,000 children in Germany, Austria, and Czechoslovakia decided to send their children, between 6 months and 16 years-old, unaccompanied to England, Switzerland, Holland, Belgium, France and Sweden. A majority of the families were never reunited.
14-year-old Marianne Salinger was still in Berlin, when the November Pogroms happened. On that night, seeing the enormous devastation of Jewish life and culture happening in her city, she snuck inside the Pestalozzistrasse Synagogue despite the danger. Although under normal circumstances she was not allowed to touch the Torah scrolls according to the Jewish law, she recognized the exceptional situation she found herself in. Marianne picked up a piece of the Torah scroll and hid it carefully in her prayer book. A few months later, she took it with her while leaving Germany and immigrating to England. Marianne's odyssey ended up eventually in the United States. Today, the Torah piece saved by Marianne, and the documents and diary of Harry Kranner, are preserved by the Leo Baeck Institute New York|Berlin, the largest repository of materials preserved by the German-Jewish Diaspora, including of course, documentation of the tragic events of 1938.
References
[1] https://www.dollartimes.com/inflation/inflation.php?amount=400&year=1938 (accessed on October 18, 2018)
Magdalena M. Wrobel, Ph.D.

Magdalena M. Wrobel received her Ph.D. at the Chair of Jewish History and Culture, Ludwig Maximilian University in Munich. Since 2016, she works as a Project Manager at the Leo Baeck Institute – New York | Berlin in the New York office. Recently, she managed the one-year long 1938Projekt.