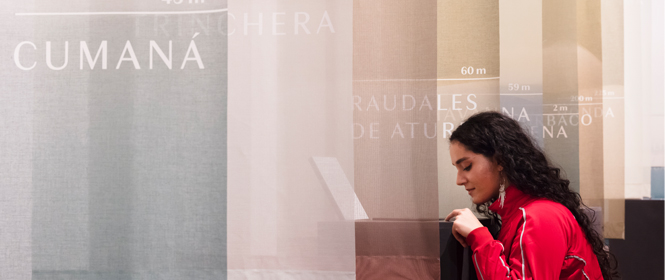 On the Scent of the Discoverer
Editors | 3 December 2019
In 2014, the Deutsches Historisches Museum pledged to make all exhibitions as accessible as possible to all its visitors. The current exhibition 'Wilhelm and Alexander von Humboldt' features tactile paving, videos in German sign language, exhibition texts in Braille, high-contrast font, and simple German – as well as five scent stations. On International Day of Persons with Disabilities, Brigitte Vogel-Janotta, head of Education & Communication, explains how the museum uses scent stations as part of a multisensory experience to enhance accessibility in this exhibition.
Brigitte Vogel-Janotta: The thematic galleries of the exhibition 'Wilhelm and Alexander von Humboldt' have been designed with accessibility in mind. We have wheelchair-accessible display cases, a tactile floor plan, and tactile paving, as well as audio-descriptive guides. Seven interactive and multisensory stations, so-called Inklusive Kommunikationsstationen (IKS – inclusive communication stations), can be used by all visitors and serve as a short tour through the exhibition. The Deutsches Historisches Museum is committed to facilitating social and cultural inclusion through a range of assistive technologies and media.
One of these inclusive communication stations appeals to our sense of smell. In cooperation with Urban Scents, the museum has created five olfactory stations, which are inspired by Alexander von Humboldt's idea to use sense of smell as an empirical research tool. We wanted to create scents that Humboldt has described in detail – for example the smells below ground, at the edge of a volcano's crater or in the jungle. These are of course just interpretations of the sensations documented by Humboldt, which may produce different reactions depending on each visitor.
We have called our scents Eau admirable, Underworld, Tiere, Aire y volcan, and Pulque. Pulque for example, the smell of a Mexican drink made from fermented agave juice, presented a mystery for Humboldt that he wished to solve through scientific means. And he was on the right track: We know today that the fermenting agent in pulque is a bacterium rather than a yeast fungus, as in most alcoholic beverages. Humboldt described the drink as follows:
The vinous beverage, which is like cider, smells like decayed meat and is very unpleasant. […] The inhabitants' opinions are much divided as to the true cause of the fetid smell that comes from pulque. They confirm generally that this smell, which is similar to that of animal matter, is attributable to the skins into which the fresh agave juice is poured […] I just regret not having been able to clarify this interesting point of organic chemistry by direct experiments. The odor may come from the decomposition of a vegetal-animal matter, similar to gluten, in the agave juice itself.
Alexander von Humboldt, Political Essay on the Kingdom of New Spain, vol. 1: A Critical Edition, Chicago, IL: The University of Chicago Press, 2019, p. 569
Cooperation and support
The scent stations have been created as a collaborative project between the Deutsches Historisches Museum and the niche perfume company Urban Scents, run by the French perfumer Marie Urban-Le Febvre and her Austrian husband Alexander Urban. Urban Scents creates fragrances, bespoke perfumes, as well as olfactory descriptions. Perfumes have always been considered something very special, and certain fragrances are as rare and desirable today as they were a thousand years ago. Their precious ingredients are often difficult to find. After carefully studying Alexander von Humboldt's detailed descriptions, Urban Scents have created a unique olfactory experience.
The scent stations have been created as part of the three-year project Verbund Inklusion, which is supported by the Federal Commissioner for Culture and the Media. Seven museums, as well as the Netzwerk Kultur und Inklusion e.V. and the Bundesverband Museumspädagogik e.V. in the kick off phase, have worked together to identify necessary changes to budgets and workflow management that museums need to embrace so as to implement the UN Convention on the Rights of Persons with Disabilities and ensure full and effective participation in society for everybody, whatever their physical and cognitive capacities. The participating museums reflect the rich diversity of the German cultural landscape. They differ in their thematic and conceptual frameworks and their public-engagement missions, and are located in different cultural regions. This diversity aims to facilitate a fruitful exchange between different types of museums. The project receives scholarly support, and the results will be evaluated and published. The closing event is scheduled to take place in 2022.
The five scent stations in the exhibition 'Wilhelm and Alexander von Humboldt' can be experienced until 19 April 2020.