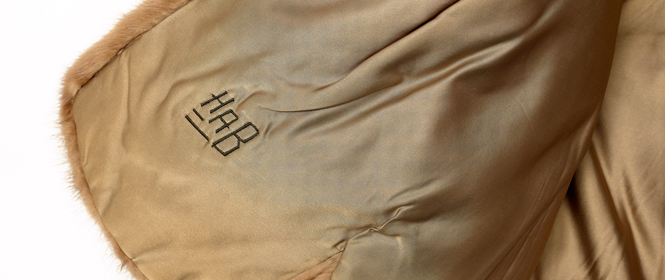 'The costly fine thing'
Highlights of the donation by Dr. Edna Brocke
Monika Boll | 6 April 2020
Dr. Edna Brocke, scholar of Judaism and grandniece of Hannah Arendt, has made a generous donation to the  Deutsches Historisches Museum in connection with the exhibition Hannah Arendt and the Twentieth Century. Her donation enhances the museum's collection with objects that offer valuable insights into the life of one of the twentieth century's most important thinkers. Some of them are on show in the current exhibition, Hannah Arendt and the Twentieth Century. Since this will not be open for a while as part of the preventive measures to curb the spread of Covid-19, the exhibition's curator, Monika Boll, present a selection of the donated objects here.
Dr. Edna Brocke, née Fuerst, was born in Jerusalem in 1943. Her parents, Kate (née Levin) and Ernst Fuerst (a cousin of Hannah Arendt's), had fled to Palestine from Germany in 1934. After doing her military service in the Israeli army, she studied Politics, English and Jewish Studies at the Hebrew University of Jerusalem. In 1955, she met her great aunt Hannah for the first time, in Israel. Later, during the Eichmann trial, Arendt took her grandniece into the courtroom with her several times. In the late 1960s, Edna Brocke came to Germany, where from 1988 to 2011 she ran the Alte Synagoge meeting centre in Essen. Since 1986, Brocke has edited the magazine Kirche und Israel (Church and Israel), which she co-founded. She has received two honorary doctorates for her work in areas of theology, and the Buber-Rosenzweig Medal, awarded in 2002. From 1956 to 1975, Edna Brocke was in close correspondence with her great aunt. They would meet in Israel and visit each other in Germany, Switzerland, or New York.
In themed sections, the exhibition focuses on Hannah Arendt's judgments – and the resulting controversies – on major issues of the twentieth century, revealing their relevance to many contemporary topics. These are complemented by sections about Arendt as a person. A nice insight into the latter is given by the wonderful collection of objects donated by Edna Brocke.
Briefcase
One of these items was in constant use during Hannah Arendt's work as a professor in the United States: a blue leather briefcase. It bears the logo of the manufacturer, Mark Cross. This leather goods business was founded in Boston in 1845, later expanding with branches in New York and London. The company is still trading today, in the luxury segment for leather goods. The bag bears the golden initials 'H A B', standing for Hannah Arendt Blücher. This reminds us that in the United States, Arendt additionally adopted the name of her second husband, Heinrich Blücher. Edna Brocke recounts that she herself later used the briefcase for her own seminars.
Cigarette case
Another object that may confidently be described as a work accessory is the cigarette case by Alfred Dunhill, Ltd. Made of electroplated brass, it is embossed and has an outer covering of black leather. Hannah Arendt was a passionate smoker. For her, smoking and thinking were inseparably linked. That is clearly evident in her well-known televised interview with Günter Gaus from 1964, which is shown in the exhibition – and can also be seen on YouTube,  where it has already been viewed nearly more than a million times.
Jewellery
Hannah Arendt loved jewellery and elegant clothes. In 2019, we interviewed fashion theorist Barbara Vinken for the exhibition. I asked her to what extent a female intellectual may publicly present herself as a woman. She replied:
'I think Hannah Arendt managed to do that with incredible elegance, because she neither hid her femininity nor toned it down, but owned it quite naturally and was an intellectual while being wholly at ease with herself as a woman'.
Against this background, we are exhibiting a gold link chain necklace with a Greek pattern, and a beaded necklace made of jade. Both necklaces appear in a number of films and photographs of Hannah Arendt.
Fur cape
The 'bourgeois paraphernalia of a lady' (B. Vinken) included this fur cape. Macy's Little Shop, mink, New York, 1950s. Embroidered by machine on the inside of the cape is the monogram 'H A B', standing for Hannah Arendt Blücher.
A reminder written to her husband in 1952 shows how important the fur cape was to Arendt:
'I'm really worried that you haven't mothballed the fur. The costly fine thing'.
Edna Brocke recalls her great aunt wearing the fur on an evening out in New York, in April 1973. She and her husband as well as the political scientist Hans Morgenthau, a friend of Arendt's, had been invited by Arendt to a performance at the Metropolitan Opera. Der Rosenkavalier by Richard Strauss was on the programme.
Thanks to Edna Brocke's donation, these and other objects owned by Hannah Arendt are being shown in a museum for the first time (and, for the time being, here on the DHM blog). They testify to Arendt's well developed sense of style and allow visitors to see the personal face of the political theorist.

© Private


Monika Boll

Monika Boll, a philosopher, is the curator of the exhibition Hannah Arendt and the Twentieth Century