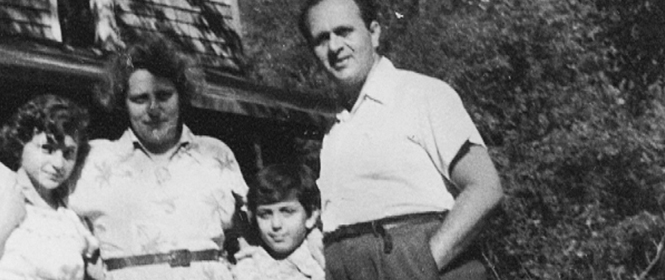 Fred Stein – a Family's portrait by Peter Stein
Peter Stein | 11 March 2021
An artist often subtly reveals himself in his work. This is true for my father Fred Stein, whose life of peril and commitment to ideals of humanism shape his photographs.
He had to flee his homeland, Germany, in 1933, because of his anti-fascist activities and also because he was Jewish. He went to Paris. Not being able to practice his chosen profession of law there, he embraced his hobby of photography. He quickly became a professional, using the Leica camera which he and my mother Lilo had given each other as a wedding present.
He developed a singular aesthetic, taking pictures on the streets of Paris in a naturalistic style. He was able to work quickly because of the small size and design of the Leica which advanced the film on a roll. He also became a fine portraitist, taking pictures of many of the most well known figures in Paris during the pre-war years.
Framing the world
My sister Mimi was born in Paris in 1938. After the war began, my father and mother managed to escape from France in a harrowing adventure, and made it to New York in 1941.  I was born in New York City in 1943.
As a child I admired my father greatly. My mother instilled in us children from the earliest age, just how special he was. I saw him go out every day to take pictures, coming home and relating to us at the dinner table his adventures of the day. And when he took portraits of famous people in his studio or other venues – of course I was too young to know them – I could always tell from my mother's reaction how important they were and how proud she was of Fred. He also read to us from the newspaper and explained the events of the world to us.
We lived in Washington Heights in uptown Manhattan, where a lot of other German refugees lived – my parents jokingly called it the Fourth Reich. Although not expensive, our apartment was very large, and my father had a darkroom with its own bathroom attached, a real luxury for him. There were always pictures floating in the bathtub, rinsing.
I went with him occasionally when he went out taking pictures. He always carried a camera or two with him. Sometimes he would stop to look at something – a reflection or a shop window or a sign in the air, and he would explain to me what he thought was special enough to take a picture. This taught me to see, with a new perspective, what was around me – the world of visual possibilities.
We went to Chinatown, Little Italy, Washington Square, and other areas of the city. I was shy, but he loved to talk to people and learn about their lives. They always responded to him.
At an early age he taught me photography, and he often let me come into the darkroom to let me watch him printing pictures. I learned to develop my own photographs and then print them myself. I became quite proficient and was recognized in some national photo contests in High School.
But beyond the mere technical aspects, he taught me the aesthetics of composition and how to see light, and that where you place the camera is as important as the subject matter.  Basically, he taught me how to see the world through a frame.
He also discussed art with me, buying me books of paintings and taking me to museums and galleries.  As an adult I became a cinematographer and shot many movies for the theaters and for television, working in New York, Hollywood and around the world.
When my father was home he was either in the darkroom or reading. He read the newspaper every day, two or more magazines, and at least two books a week. And he had opinions about everything. We regarded him as an expert on many topics, but especially politics.  He was so astute  – he was a democratic Socialist who was not only against the Fascists, but also the Communists. He detested Stalin and warned people not to join the Communist party when it seemed that Russia was one of the few nations left standing up to Hitler. And he had alerted many Jews early on to the danger of the Nazis.
He died at the young age of 58 in 1967. Photography was not generally recognized as an art form at that time, and he was not very well known outside of a few small circles. He really didn't mind at all and was very happy meeting people and having lively discussions with them. In fact when he photographed Albert Einstein he spent two hours with the professor, although his appointment had only been for ten minutes. They had a grand time together.
When photography finally became a part of the art world in the late 1970's and early 1980's, many of his contemporaries were just starting to become recognized and later to become famous, but my father's work had been forgotten.
When my career became well enough established, I was able to promote his photography, and finally, after a long uphill struggle, achieved the recognition for him that he deserved. He is now fairly well known, and there have been numerous exhibitions of his work in important museums in various countries.
He was one of the pioneers of street photography in 1930's Paris and 1940's New York. His work is not only beautiful and historically important, but his portraits show many of the subjects he photographed in naturally lit situations which reveal their personality. The street scenes show his subtle artistic aesthetic and his human compassion, and the portraits he made of exiles are a testament to his political awareness, intellectual acuity and his subtle understanding of who his subjects were.
I am so delighted that the Deutsches Historisches Museum has put together this impressive collection of so many of the original photographs, printed by my father himself. It is a beautifully curated and wonderfully displayed exhibition that brings to light so much of what he accomplished as a politically and humanistically motivated artist.