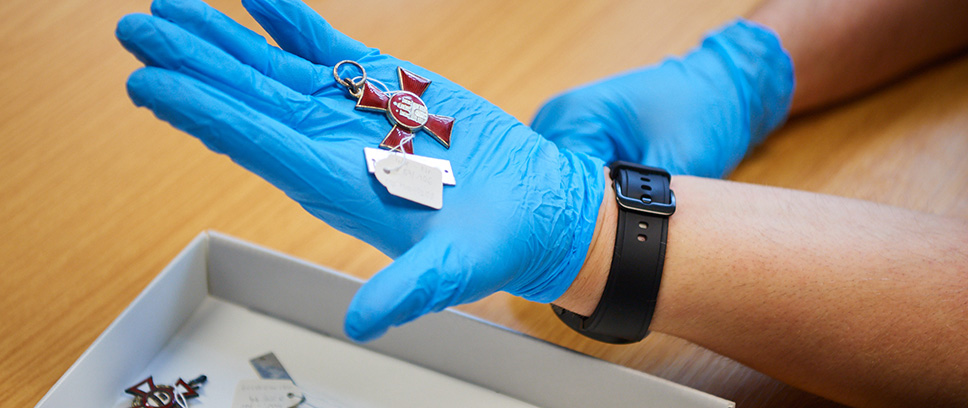 Special Features of Provenance Research at the DHM
Brigitte Reineke | 12 April 2023
At today's international Day of Provenance Research, the provenance research team of the DHM is taking part in the "provenance walks" through Berlin libraries as well as with a film that describes the special aspects of research at the DHM by means of typical examples.
Our systematic inventory research concentrates on two main areas: the dispossession or expropriation of cultural goods resulting from Nazi persecution and the expropriation contexts in the Soviet Occupation Zone (SBZ) and the German Democratic Republic (GDR). Due to the DHM's acquisition of the collections of the Museum für Deutsche Geschichte of the GDR in 1990, this area has become a key focus of research at the DHM, which has therefore created the only permanent research unit of any German museum. The museum's special collection history is also the reason for the relevance of our basic research on networks and procedures in the SBZ and GDR: the resulting fundamentals of object research can thus be passed on to other German museums.
Another specific aspect of our provenance research is the museum's character as a cultural-historical collection, which is why inventory research in the areas of National Socialism and the SBZ/GDR is not only involved with art-historical unica, but for the most part with objects manufactured in serial production. It is considerably more difficult to track down the past of an object produced in this way.
The character of the collection history and of the stocks themselves make it more likely that there will be so-called double dispossessions – first expropriated in the Nazi period and a second time in the SBZ/GDR. It can be expected that the provenance research team with their ever increasing knowledge of the details of the objects will come across such double expropriations more frequently as time goes on: a special challenge for provenance research in the DHM.