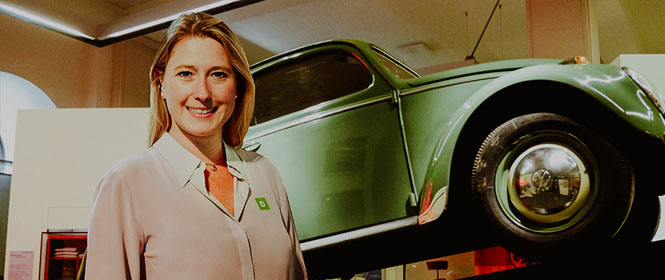 'THE VW BEETLE IS A CAR WITH A SOUL'
My favourite piece of history at Deutsches Historisches Museum is a Volkswagen export model from the 1950s. Known colloquially as the Volkswagen Beetle, it soon became a classic at home and abroad and was available in West Germany for a mere 5,400 Deutschmarks back in 1951. It was so popular that the millionth Beetle rolled off the production line in 1955.
A CULT CAR WITH TIMELESS ELEGANCE
I've always been impressed by the VW Beetle. It's a cult car with timeless elegance, a bit like the Belchfire Runabout with a 313 number plate driven by Donald Duck, which I also loved as a child. Unlike many of today's cars, these models have a soul. Cheesy decorations that have no place in modern vehicles appear in a whole new light in a VW Beetle. In fact, you can even hang a pine tree air freshener in the windscreen.
I have always been incredibly fascinated by cars. They have that unique smell, are often masterpieces of design and, first and foremost, represent a milestone of technological history. The invention of the car revolutionised transport. At the time of the 'Wirtschaftswunder' ('economic miracle'), the affordable yet reliable VW Beetle, in particular, gave Germans an unprecedented level of independence. Suddenly, almost everyone in the country could afford a car. At the same time, German exports like the Beetle enjoyed an excellent reputation abroad – and they shape the image of Germany as an export nation to this day.
THE VW BEETLE AS A SYMBOL OF THE ECONOMIC MIRACLE
In my opinion, the Beetle is one of the main symbols of the economic miracle and therefore the social market economy, which is inextricably linked with this period as a new socio-economic model. With a focus on free markets combined with due regard for social justice, it remains a recipe for success that still has a bright future in the 20th century.
Our era has also given rise to cars that have the potential to appear in the museum. In 70 years, the collection may include a Tesla or a BMW i8. With their electric drive technology, these vehicles herald a new era of motoring – just as the VW Beetle did in the 1950s.