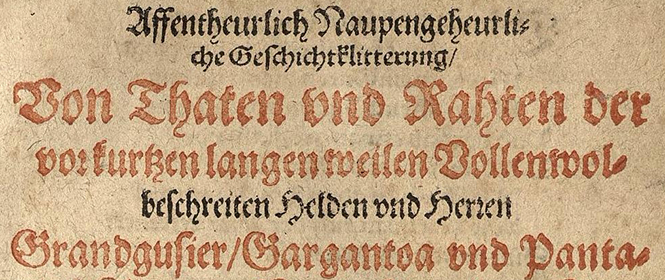 "Affentheurlich Naupengeheurliche Geschichtklitterung"
In the latest instalment of our "What's that for?" series, we would like to tell you about the sublime linguistic experiment of Johann Fischart, which added the word "Geschichtsklitterung" ("pseudo history") to the German language.
An attempt to translate François Rabelais' 1533 novel "The Life of Gargantua and of Pantagruel" into German culminated in 1575 with a sublime linguistic experiment: "Affenteurliche und Ungeheurliche Geschichtschrift" by Johann Fischart (1546/47–1591). Never before had a translator attempted anything comparable in the German language; prior to Fischart, nobody had produced such a vivid and eloquent novel. Second only to Martin Luther, the Early New High German author stands out on account of the many new German words he coined. The work, whose title was changed to "Affentheurlich Naupengeheurliche Geschichtklitterung" in 1582, is – by virtue of its experimental language – often described as the "Finnegans Wake" of the 16th century. This is the first time that the word "Geschichtsklitterung" appears.
Apart from the experimental style of the translation, Rabelais' satirical knightly romance that Fischart used as his source text is also noted for its unusual content. The "Abbey of Thélème" described in the book is an unorthodox world in which young men and women live together, celebrate festivals and converse whilst playing. The monastic rule comprises just a single sentence: "Fay ce que vouldras" ("Do what you want"). Alongside the irony of the text, which decries the vices of the period, particularly alcoholism , the description of the "Abbey of Thélème" is an early example of a utopian society.
A tome with its own story
The 1582 tome, which Deutsches Historisches Museum acquired in 2016 for its Manuscripts and Old and Valuable Printed Materials collection, is a rarity with a unique story behind it. The fact that author and lyric poet Friedrich Wilhelm Gotter (1746–1797) and philologist and author Karl August Böttiger (1760–1835) were amongst the registered owners proves that the work attracted considerable attention in German philological circles in the Enlightenment and the Romantic period. When the book appeared as item 728 of 12,000 in the auction catalogue for Böttiger's library in 1836, it was listed as "very rare". And in the past 65 years, this was the only copy to go on sale, which it did in 1984. Yet to be deciphered is the gold-embossed supralibros "GFW 1671" on the front cover of the volume. Even amongst the surviving examples, this new acquisition is unique on account of its completeness and the fact that it is still in the original binding.
Johann Fischart: Affentheurlich Naupengeheurliche Geschichtklitterung Von Thaten vnd Rathen der … Helden vnd Herren Grandgusier Gargantoa vnd Pantagruel … Etwan von M. Frantz Rabelais Frantzoesisch entworffen … inn einen Teutschen Model vergossen … – [Strasbourg]: [Bernhard Jobin], 1582. – [286] Bl.