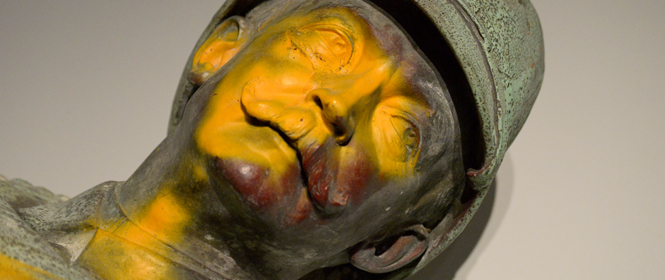 Memorial to Hermann von Wissmann
As they approach the end of the "German Colonialism: Fragments Past and Present" exhibition, visitors encounter a toppled monument lying on the ground. In the "What's That For?" series, we explain why we have decided to display the "Memorial to Hermann von Wissmann with Askari and Lion" this way.
Hermann von Wissmann (1853–1905) served between 1885 and 1886 as governor of German East Africa, a colonial territory that encompassed present-day Tanzania, Burundi, and Rwanda. His monument was designed by Adolf Kürle and officially unveiled in Dar es Salaam on 3 April 1909, some four years after Wissmann's death.
In 1919, Germany was stripped of its status as a colonial power in the wake of the country's defeat in the First World War and in accordance with the provisions of the Treaty of Versailles. Now located in territory controlled by the British under a mandate from the League of Nations, the monument was duly taken down and transported to London, where it was put on public display at the Imperial War Museum as a war trophy. Following requests by supporters campaigning for the reestablishment of Germany's colonial empire, representatives of the German government successfully negotiated the monument's return. It was erected in 1922 in front of the University of Hamburg. During the years of the Weimar Republic and the Nazi regime, the Wissmann monument routinely took centre stage at events organized by colonial revisionists, who demanded the return of Germany's former colonies.
In 1961, students in Hamburg voiced (initially unsuccessful) demands for the removal of the monument, as they felt it glorified Germany's colonial past and featured a representation that was offensive to their fellow African students. The protests grew more strident with the increasing politicization of the student movement. When the monument was toppled in September 1967, it was intended to strike a symbolic blow against the "ongoing exploitation of the Third World" while marking a break from the university's traditionalism. After once again being sprayed with paint and toppled on the night of 31 October 1968, the University of Hamburg finally admitted that it was no longer feasible to keep the monument on permanent display. It was subsequently stored at the Hamburg Observatory in Bergedorf.
In order to create a visualization of Germany's relationship to its colonial past, the curatorial team at the Deutsches Historisches Museum decided that the exhibition should similarly feature the monument lying on the ground.
The exhibition "German Colonialism: Fragments Past and Present" runs until 14 May.