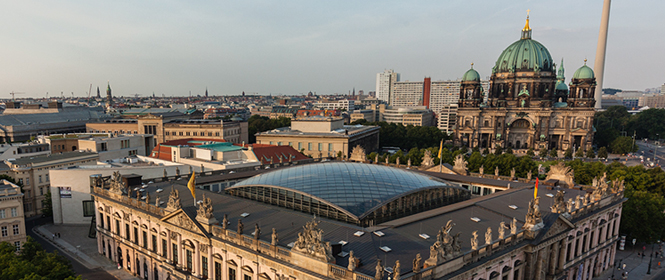 Do We Need Museums, Or Can They Go?
The theme of the 40th International Museum Day 'Museums and contested histories: saying the unspeakable in museums' led me to ask: do we need museums? What speaks for or against them? What role do they play in society? These questions are more relevant than ever in light of the current political and social distortions arising from alternative facts and fake news.
No-one needs museums! A polemic
No-one needs sacred halls packed with the dusty art of past ages! What for? I can't rest on a sofa after an exhausting day at work and relax while enjoying the art, and the kids can't explore the museum playfully. Whenever they get loud, older visitors chastise them with disparaging looks, and I break out in a nervous sweat when they come too close to the artworks in their exuberance.
Besides, maintaining museums costs taxpayers money, and I get nothing from them. They're always closed when I would have time to visit them. On the weekend I'm drawn to more amusing forms of entertainment than a visit to a stuffy museum that holds up the aura of the original like a halo. The objects often seem to me to just stand or hang around there, completely unrelated to my own lived reality. They don't tell me stories, they lack emotion, they don't inspire reflection. I don't know why they're there, or anything about the context in which they were created. Tours, catalogues, or audio-guides would give me more information, but I have too little time or energy for them.
Aside from these guides, no-one from the museum talks to me about the art, not even on social media. What good are the many events on offer to me personally? I can hardly find anything that looks fun or interesting. Museums don't need digitalization. So say museum critics.
I have exaggerated a bit in this polemic, but it reflects voices from the internet. The article 'Keiner da? Mit dem Nicht-Besucher-Forscher im Museum' (No-one there? A visit to the museum with the non-visitor-researcher), along with the discussion it generated, is particularly revealing. The truth is that time for museum visits is limited, while other forms of entertainment provide stiff competition.
Culture – a question of money?
When money gets tight the budget for cultural programmes shrinks, both in Germany and abroad. This doesn't affect the blockbuster exhibits that draw large crowds, there's always money for those. What suffers is the overall operation of the museum. Funds for bringing permanent exhibitions to the public's attention are limited, and such exhibitions often attract few visitors. To change this will require a rethinking of museums and cultural policy beyond mere lip service. We need new approaches to publicity anchored in the current moment and capable of connecting the digital and the analogue.
The digital transformation of society constitutes a significant challenge for museums. They need to find their role in this process and claim their relevance for the whole community. If seen only as 'champagne towers' for elites, then they can go.
According to Donald Trump, for example, culture is unnecessary. He planned to cut federal funding for art and the humanities in favour of increased military spending, and signed an executive order that would do just that. For the time being, Congress has stopped the cuts to federal cultural funding, after artists and celebrities effectively protested the executive order in the media. The next round of discussions begins in September. Museums have had a wake-up call.
#DayofFacts – alternative facts and fake news
Museums and libraries reacted cleverly and cheekily to Trump's alternative facts and fake news. On 17 February 2017 they fought back with a #DayofFacts on social media, using facts to disprove Trump's claims. Museums are taking a clear stance: neutrality is no longer an option, according to Claire Solery. Day of Facts' campaign Storify documents this.
Some 40 members of the Field Museum's staff delightfully and clearly disprove fake news in a Youtube video.
As a side effect of the #DayofFacts, museums are actively examining their role in society. Many have reworked their mission statements. The post-truth era threatens museum's justification for existence if they lose public sentiment and fail to present themselves as an essential part of society.
"Neutrality, not an option anymore" Great write-up & interview from @WeAreMuseums about #DayofFacts cc @AlliHartley1 https://t.co/qQ2TpMwI6m pic.twitter.com/By9pAWQwNg

— mara kurlandsky (@mkurlandsky) 21. April 2017

The successful campaign #DayofFacts, with over 50,000 tweets, was not limited to America alone. Cultural institutions throughout Germany and worldwide participated, and continue to do so.
#DayofFacts
Did you know that we owned a 2. version of "Washington crossing the Delaware" by Emanuel Leutze? It burned in WWII 1942 #Bremen pic.twitter.com/xIIRWHBBur

— Kunsthalle Bremen (@Kunsthalle_HB) 17. Februar 2017

German museums highlight their permanent exhibitions, tours, and discussions from the perspective of fake news. They pick up a topic that's currently trending, transform it, and provide new food for thought as locations of collective memory. Our lived experience plays a role for museums. At the same time they open up new horizons for us, bringing the past into the present.
The Deutsches Historisches Museum has joined this digital development with the blog entries Fake News 1937, with Ferrer de Morgado's 'Éxodo' depicting refugees, and Alternative Facts.
We need museums and they need us!
Museums can provide an integrating force within our society, and can do so from a variety of viewpoints for different social groups. Thus Dr. Stephan Mann, director of the Museum Goch, demanded in an interview in 2015 that 'The museum should be the place where we can think about the ideas, questions, and challenges of our current time.' He continues, stating that refugees, once they have arrived, must 'learn German and come into contact with our culture. What better place for this to happen than in the museum? Museums are intercultural places per se.'
Bernd Sobolla of the German radio station Deutschlandfunk made similar comments in the context of a panel discussion in Berlin addressing the future of museums. Museums, she said, should 'increasingly become not only places where exhibits are presented, but where contexts are created, or better yet, where contexts are related to the current situation.'
A museum is nothing without its visitors!
© Tanja Praske

Dr. Tanja Praske

Dr. Tanja Praske is an art historian and lecturer in digital art history at the Ludwig-Maximilians-Universität, Munich. She advises cultural institutions on their digital strategies. She designed a garden app for the Bavarian Palace Department, and implemented the Tweetwalks #Lustwandeln.
She has been active as a cultural blogger since October 2012 at www.tanjapraske.de. Along with cultural experiences she discusses digital communication formats with a focus on cultural education, social media, blogging, and digital transformation.