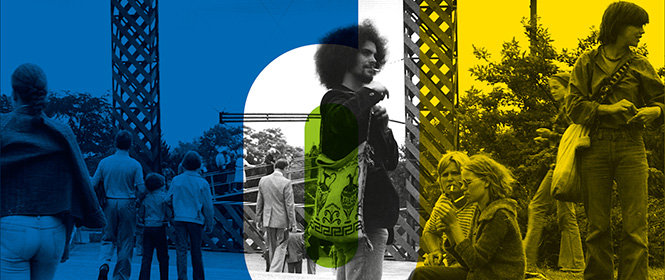 documenta as a Forum for Distancing Germany from Its Nazi Past and Seeking Alignment with North America
Julia Voss | 25 June 2021
In her talk, first given on 16 June 2021 at the opening of documenta. Politics and Art, co-curator Prof. Dr. Julia Voss highlights some exhibits which shed light on the very early days of documenta and show how its curators turned to the West for their political and cultural agenda.
Welcome to the exhibition!
Our exhibition is all about linking works of art with the latest discoveries in archival research, and in this talk I'd like to draw your attention to one or two of these discoveries. So, when you come into the exhibition, I invite you to head straight through the first room and into the section entitled "documenta and National Socialism". Now look for Pregnant Woman, a terracotta sculpture by the German sculptor Emy Roeder. You will find yourself standing in front of a glass case on a white plinth, gazing into a grave and sorrowful face.
Why is this face so poignant? Emy Roeder is the artist who first prompted me to investigate the art that documenta left out. Roeder was a sculptor, born in 1890 in Würzburg. In the 1930s, her work was denounced by the National Socialists as "degenerate". Her small sculpture of the Pregnant Woman was seized and sent off to the propaganda exhibition Degenerate Art. In 1955, almost two decades later, a wooden version of Pregnant Woman travelled to Kassel for the first-ever documenta.
The exceptional quality that infuses Emy Roeder's work was what made her attitude in the post-war world exceptional too. Only a fragment of the terracotta version of Pregnant Woman survives but originally the figure's hand was placed on her gently rounded belly. She is protecting another life, bearing testament to that life's existence and responsibility for it. It was precisely this preoccupation with caring and bearing testimony that characterised Emy Roeder as a person. She wrote many letters in the post-war period, which I have read in the archives in Munich, Würzburg and Berlin. In those letters she reported events which many people no longer wanted to remember. One of the letters is on display in the exhibition.
In her letters, Roeder told what had happened in the 1940s. She told what had befallen her friends and acquaintances. The letters were written from Florence, the city she had made her home, and where Werner Haftmann, the art historian and later documenta's co-founder, was also living at the time. Roeder wrote about her friendship with Rudolf Levy, a Jewish painter who had arrived in Florence in 1940, describing her excitement at his work. And she wrote about Levy's arrest in Florence in 1943 by two men from the SS and his deportation to Auschwitz, which he did not survive.
In the exhibition, we have included the paintings by Levy that had so excited Roeder. Please do look at them, too: all of them date from Levy's time in Florence and in them he depicts the everyday realities of his much-shrunken world. The Italian city was his final refuge, the last stop on a long odyssey which had taken him to many places of exile. In 1943, as German troops were besieging Florence, he painted his last moving self-portrait. You can see it, too, in our exhibition.
As we prove by other documents on display, Werner Haftmann also knew Levy. However, despite documenta's declared aim to "document" the history of modern art, Levy's works were not shown in Kassel. Haftmann's politics of commemoration did not include murdered artists, whom he omitted both from his works of art history and from documenta. We now know, from research carried out by the historian Carlo Gentile, that Haftmann had been the commander of a Bandenjagdkommando, a special forces unit tasked with hunting down Partisans, and in 1944 he had personally taken part in the torture of Italian Partisans and the murder of civilians in Italy.
After the war, Haftmann kept silent about his participation in the atrocities of the Nazi era. And murdered artists were not posthumously featured at documenta. In short, the Nazis' denunciation of art was remembered, but not the artists they had murdered. The part of his own biography which Haftmann wished to cover up was reflected in omissions from his reconstruction of modern art.
Further on in the exhibition, in the section on documenta and "the West as a political and cultural programme", curated by my colleague Lars Bang Larsen, there are two other works I'd like to point out. The first is in the room devoted to abstract art. In both West Germany and the United States, abstraction was hailed as a universal language and a bulwark against socialism and communism. At documenta, it was revered as the very essence of modern art and the expression of the individual – particularly the male individual. But there is one abstract painting in the room, which was also shown at the first documenta, which certainly does not conform to this anti-communist narrative. Look out for a work in portrait format showing a black lattice structure, painted with rapid brushstrokes. Its title is Sedia elettrica (Electric Chair). It was painted by the Italian artist Emilio Vedova and dedicated by him to Ethel and Julius Rosenberg, the married couple who were executed as Soviet spies in New York State in 1953.
But let me also say a few words about the other aspect of documenta: its bright, inviting, festive, aspect, completely at odds with the stuffy museum culture of the time, which it owed to its inspirational organiser, Arnold Bode. "Pretty amazing" was how seventeen-year-old Heiner Georgsdorf described his visit in 1955 in his pocket diary, which is also one of the exhibits. Also "pretty amazing" were the colourful and elegant designs created twenty years later when it was proposed that a special edition of documenta should go on show in Philadelphia. These, too, are on display in the section curated by Lars Bang Larsen. In 1975, documenta was going to be West Germany's contribution to the 200th anniversary celebrations of the American Declaration of Independence, making its appearance in Philadelphia amid dress uniforms and parade floats – sadly, that never came to pass.