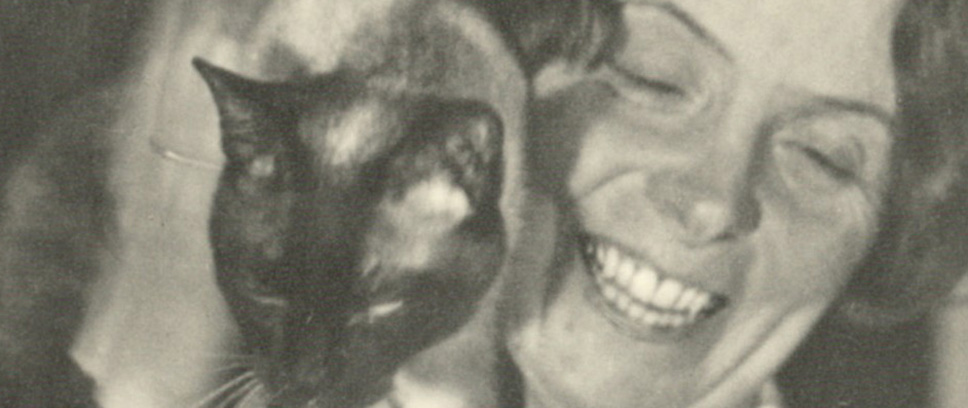 Emy Roeder and the documenta
Julia Voss | 13 October 2021
Julia Voss is co-curator of the current exhibition "documenta. Politics and Art". In this blog post, she reports on Emy Roeder, one of the few female artists featured at the first documenta. Voss also reports on the other things she unearthed in the course of her research on Roeder relating to Arno Breker (a prominent artist during the Nazi regime), to the murdered Jewish artist Rudolf Levy, and, most notably, to the art historian and documenta cofounder Werner Haftmann.
Reading that the sculptor Emy Roeder had exhibited at the 1955 documenta in Kassel immediately piqued my curiosity. Roeder – really? Roeder was different from most of the other documenta participants. For one, she was a woman, which was rare in Kassel, where, with few exceptions, all the works on show were by men. But more than that, Roeder had participated in overtly political exhibitions in the aftermath of World War I, such as those by the November Group (named after the November Revolution) or an exhibition in the late Weimar years campaigning for the decriminalization of abortions.[1] Her presence was all the more unusual because political art was not welcome at the first edition of documenta in 1955.
In my groundwork I came across an interesting fact: Emy Roeder lived long enough to witness the documenta! Of the seven women whose works were exhibited in Kassel alongside those of 140 men, three were already deceased: Paula Modersohn-Becker, Sophie Taeuber-Arp, and Séraphine Louis. Two of the remaining four women artists lived abroad: Barbara Hepworth and Maria Helena Vieira da Silva. Gabriele Münter and Emy Roeder, however, lived in Germany. Of the two, records show that Roeder had closest contact with the curatorial team at documenta. Indeed, Roeder had already met Werner Haftmann in the 1930s, well before he rose to become one of the founding fathers of the most important art event in West Germany and long before he was eventually appointed the first director of the Neue Nationalgalerie in West Berlin, in 1967.
At the time of their initial meeting, Roeder and Haftmann were both still living in Italy – in Florence, to be precise. He was a young assistant at the Kunsthistorisches Institut, a German-led and German-staffed research institute for scholarship into Italian art. She was a scholarship holder at the Villa Romana, another German institution in Florence, which supports contemporary artists through its residency programme. In March 1938 Haftmann issued a document for Roeder granting her free admission to the Florentine museums. This service for artists-in-residence at the Villa Romana was just one of Haftmann's many administrative tasks at the institute.
Knowing that Roeder was still alive in 1955, the first thing I wanted to find out was what did she think of the documenta? What did she make of the art, or, moreover, the selection? How did she see herself in relation to the other featured artists? And what did she think about them?
So I got on the train to mine the archives where her correspondence is kept. I went to Munich and, of course, to Würzburg, the city of Roeder's birth and where her legacy of manuscripts is kept. I was soon dealt a disappointing blow: Roeder didn't visit the documenta in 1955. She did find out, though, that the English sculptor Henry Moore had seen her two sculptures there and was enthusiastic about them. The two works by Roeder on display at Kassel were the wooden sculpture "The Pregnant Woman" and a bronze, a portrait head of the painter Hans Purrmann.
Knowing that she never actually went to see the show didn't throw me off course; I continued reading her letters and pretty soon couldn't stop. In Roeder, I met a woman who was at the peak of her career in the 1950s, but who wrote as if looking at the present moment from a distant position in the future. Outsiders are often the more original witnesses to a historical moment. They retain a personal view of the circumstances and have little interest in things remaining as they are. They see no point in whitewashing or even glorifying their time. And so it was with Roeder: she made fun of the male bias of the art world and the fact that of all the works in her oeuvre, the pieces that counted the most among male critics were the ones depicting famous men. In 1954, for example, she wrote to her fellow artist and friend, the Expressionist painter Karl Schmidt-Rottluff:
"One day my biography will say of me: she specialized in portraits of older gentlemen: Purrmann, Heckel, Schmidt-Rottluff (…)."
Karl Schmidt-Rottluff, in his turn, shared Roeder's assessment and wrote a tongue-in-cheek response:
"Your portraits will one day be the documents of this age, which is quite obviously the age of old men. In the past, people left their mark between 50 and 60. At this rate, you'll be forced to make portraits of mummies."
It did not escape Roeder that prominent figures in the German art world, especially collectors, were unabashed in their enthusiasm for artists whose greatest public successes had been attained under the Nazis. In Roeder's words, writing this time to her friend the painter Hans Purrmann in 1951:
"Do you know who the highest-earning sculptor in Germany is, by far? Arno Breker. Isn't that astonishing? All the heads of industry in the Rhineland have portraits made of themselves plus family, so there's no end to commissions for him. He drives from house to house in a grand touring car with a liveried chauffeur at the wheel."
But what surprised and moved me the most was what Roeder wrote about an artist she had known personally and who had died in 1944 while being deported to Auschwitz. In a letter from 1946 she writes of Rudolf Levy,[2] the German-Jewish painter who was arrested in Florence:
"It really was a profoundly stimulating experience to see so many of his works together. The pictures from the last years are entirely his own and strong."
The above quote is from a letter I read in Munich and, in it, we again see Roeder presenting herself as an outsider. Roeder wrote those lines while in Florence, her place of residence until the end of the war. All of a sudden, things fell into place: Florence was also the city where Haftmann had kept his apartment even during his military service, and the city where Rudolf Levy went into hiding in 1940. What's more, the secret studio Levy occupied was in a boarding house located, of all places, in the same building where Haftmann had previously worked as an assistant.
This begged the question: How close had Haftmann and Levy become? Haftmann's name repeatedly appears in the visitor book of the Kunsthistorisches Institut in Florence, even during the war years, when he was no longer working there. While Haftmann spent time at the institute, his old place of work, is it possible that Levy was holed up just a few metres above him, painting? What did Haftmann know about Levy? The building itself is still there. It is the Palazzo Guadagni.
As I continued reading, I noticed how Roeder kept returning to Levy in her correspondence. She kept alive the memory of a fellow artist who was forced to flee Germany in 1933 and whose works had all but vanished from public view by 1937 at the latest, when the Nazis confiscated them as examples of "degenerate art". When Levy was finally arrested in Florence in 1943, his paintings had already been removed from the most prestigious German museums, such as the Kronprinzenpalais in Berlin, the Hamburger Kunsthalle, and the Wallraff-Richartz-Museum in Cologne.
So what happened after the war?
One question stuck with me long after reading Roeder's letters: What had become of the murdered artist Rudolf Levy's art? Haftmann, for example, had invited the artists he knew from his time in Florence to participate in the first documenta in 1955: Emy Roeder was one of them, as was Hans Purrmann, who had also served as director of the Villa Romana for eight years. Rudolf Levy's paintings, by contrast, were missing from the show. His name did appear in the records, but only as a passing mention, on a list stemming from a meeting in preparation for documenta. But none of his works was shown at the first documenta in 1955. Indeed, artwork by murdered Jewish artists was absent entirely. The history of art that Haftmann presented in the exhibition and in the catalogue was one of survivors, a history of modern art without mass murder and the Holocaust (interview with Carlo Gentile about Werner Haftmann).
But the story doesn't end there, for in 1986 Haftmann, now no longer director of the Neue Nationalgalerie, seems to have changed his mind about things. In his richly illustrated book Verfemte Kunst (or "Outlawed Art"), on the so-called "inner and outer emigration" of artists during the Nazi period, he suddenly chose to devote two full pages to Levy. Haftmann now called Levy an artist "who today, quite unjustly, is almost forgotten". And he grouped him with other painters who had brought their "bright pictures" back from Italy and "whose joyful radiance struck such an unfamiliar note in the Expressionist torment of the German exhibitions of the 1920s". Haftmann ends his piece on Levy with a surprising appeal:
"Levy, too, persevered with his message while in exile. It must not be forgotten."
One narrative strand in our exhibition "documenta. Politics and Art" is how art served the politics of memory in Kassel: who was remembered in the postwar period and who was struck from the collective memory.
It was the featured artist Emy Roeder who repeatedly wrote about her murdered painter friend Rudolf Levy in her letters after 1945. If there's one lesson I can take from reading Roeder's correspondence, it is: If you're interested in hearing the untold stories of postwar Germany, it's better to stick to its outsiders.
References
[1] The springboard for my research was the brilliant exhibition catalogue edited and co-authored by Henrike Holsing and Marlene Lauter and published by the Museum im Kulturspeicher (Würzburg), Das Kosmische allen Seins. Emy Roeder. Bildhauerin und Zeichnerin, Berlin 2018.
[2] For more on Rudolf Levy, see Susanne Thesing's excellent monograph on the artist, Rudolf Levy. Leben und Werk, Nuremberg 1990.
Cover photo: Emy Roeder (1890-1971), Würzburg, 1936 © Museum im Kulturspeicher Würzburg, Emy Roeder Estate