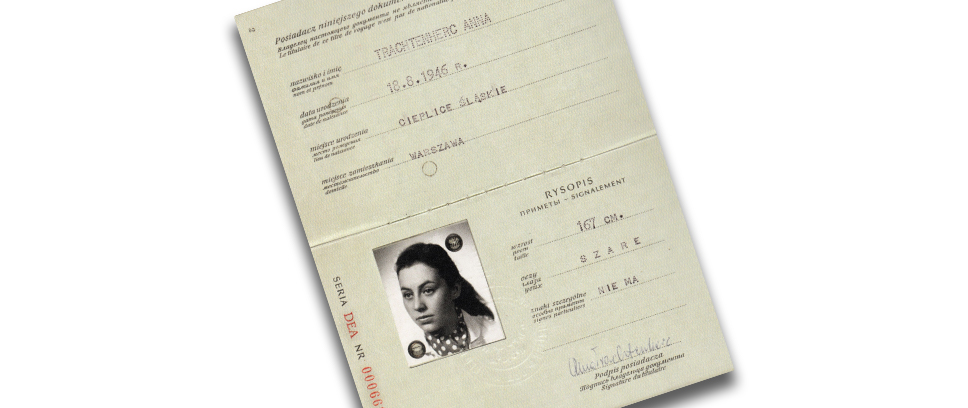 What's that for? "Travel Document" of a Polish woman of Jewish background
Dariusz Stola | 21 September 2022
In the 1960s, some 30,000 Jews were living in the People's Republic of Poland. While most of the Holocaust survivors had emigrated, those remaining in Poland were strongly attached to their homeland, urban and often well educated; many had made careers in the economy, administration, culture and academia. For the latter, the anti-Semitic campaign launched by the communist party in 1968 was all the more drastic. In our series "Why that?", historian Dariusz Stola describes the exit document of Anna Trachtenherz, whose family decided to leave Poland in response to the campaign. The document can be seen in the exhibition "Citizenships. France, Poland, Germany since 1789".
At first glance, the document looks like a passport. It contains the forename and surname of the person shown in the passport photo, her birthday, place of birth and residence, data about her height and eye colour. Every category is listed in three languages: Polish, Russian and French. Like other similar documents it tells who is the given person is. But the crucial information it provides is the sentence above the name, which states who the person is not: "The bearer of this document is not a Polish citizen."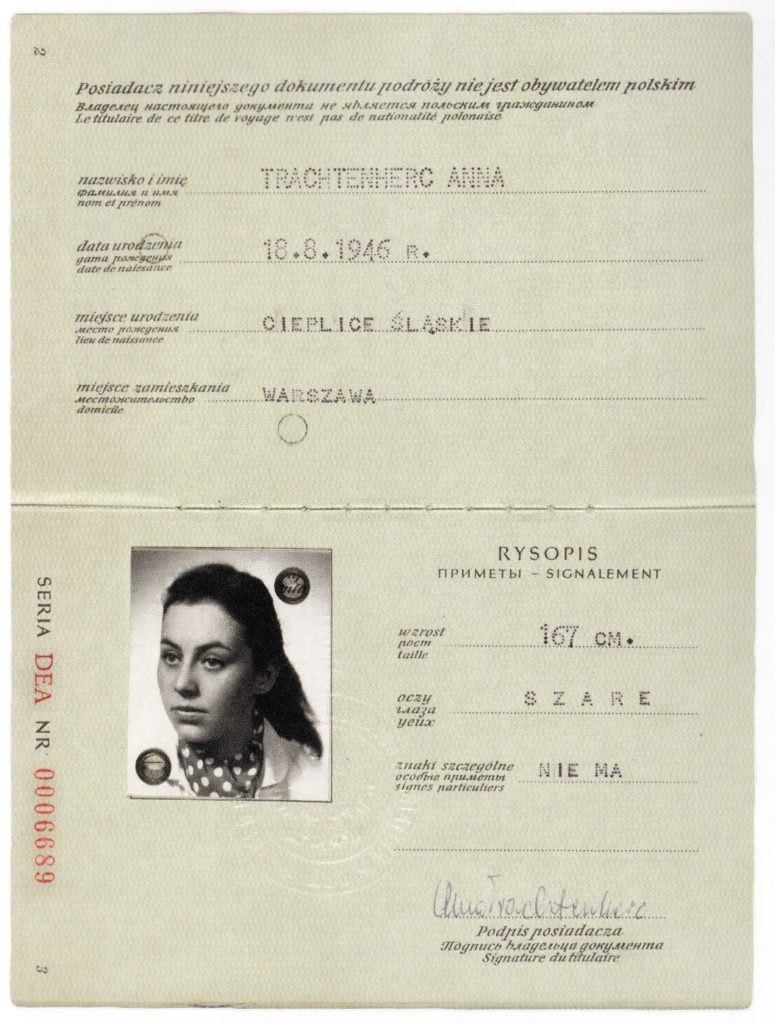 The "travel documents" issued by the communist authorities of Poland were not a Polish invention. Many states have issued similar documents for foreigners who have no other valid identity documents. Such documents help in various situations when identification papers are demanded. However, in communist Poland they were issued mainly to Polish citizens, not to foreigners.
Anna Trachtenherz, the bearer of this document, was born in Poland in 1946 and spent her whole life there up to that time. Polish was her mother tongue, her parents were Polish citizens – her father was a physician, her mother a respected civil servant in the Ministry of Health. Some weeks before their departure, Anna and her parents still had Polish ID papers. But when they decided to emigrate, the officials in the passport office demanded, in addition to their application for emigration permit, to apply for "a permit to change their citizenship". Without this document, their application would not be processed.
The Trachtenherz family decided to leave Poland because they could no longer bear the harassment and discrimination and because they were worried about the future, especially for their daughter. In the eyes of the Polish authorities and many of their fellow citizens, they had a serious flaw: they were Jewish. When Polish students took to the streets in March 1968 to demonstrate against censorship and police brutality, the communist authorities reacted with repression and a massive propaganda campaign, which claimed that a Zionist conspiracy was behind the student protests. In hundreds of press articles and radio and television broadcasts, in thousands of meetings and mass rallies in which millions of people participated, the supposed "Zionists" were accused of pursuing malicious activities against Poland, of serving American imperialists, and cooperation with West German revisionists who wanted to take Breslau and Stettin away from Poland. The term Zionism was merely a fig leaf for the anti-Semitic agitation. Any person of Jewish background could be implicated and thus demoted, ousted from the party, fired from their job, or university. The authorities – from the head of the communist party and the Prime Minister down to the local officials and Security officers – "encouraged" the Jews to leave the country. In the end, nearly 15,000 people left Poland: Polish Jews and Poles of Jewish descent.[1] One of them later commented: "I left Poland, because it was the only country in which I could not be a Pole." [2]
In the 1960s, the Jewish community in Poland was relatively small and largely assimilated. Only 10 percent of the 3.4 million members of the great pre-war Polish Jewry had survived the inferno of the Second World War. Of those who had returned to Poland after the war or come out of their hiding places, nearly 90 percent left Poland in the course of three emigration waves, so that after 1960, only some 30,000 Jews remained. Their younger generation as a rule no longer spoke Yiddish, was areligious, and often knew little about Jewish culture. This was also the case of Anna Trachtenherz, who recalled: "We had no connections with Jewish tradition, with culture … We were a completely assimilated family. I never went to the synagogue. I never belonged to the TSKŻ (Social-Cultural Society of Jews in Poland)."[3] Although they were persecuted for their alleged Zionism, they did not emigrate to Israel, but to Sweden. Of the Jewish emigration wave in 1968-1969, only every fourth person went to Israel. A fairly large group settled in nearby Sweden and in Denmark, and the rest dispersed in various countries.
Those who decided to leave Poland as a result of the "anti-Zionist campaign", had to declare in their application for the emigration permit the Jewish ethnicity , and intention to emigrate to Israel (even when they no such intention), and to declare their will to change their citizenship. The government deprived them of their Polish citizenship to prevent their return, and to divest itself of obligation towards the emigrants. On this basis, it did not issue them regular passports, but the "travel documents" that served as one-way tickets. This practice did not apply to emigrants to Israel alone, but also – and in far greater numbers – to those who wanted to emigrate to Germany. Several hundred thousand people from Silesia, Pomerania and Masuria left Poland with such "travel documents". In the Federal Republic of Germany, they received the status of Aussiedler (resettles, i.e., ethnic German immigrants) and German citizenship. Similarly, Jewish emigrants to Israel received Israeli citizenship due to the so-called right of return.
During the high wave of outmigration in 1956 to 1959, when more than 300,000 people left Poland, the communist authorities simplified this procedure,, making the loss of Polish citizenship an automatic consequence of the exit permit to Germany or Israel. In democratic Poland after 1989, these regulations were challenged in court and declared unlawful.[4]
---
Sources:
Dariusz Stola, Kampania antysyjonistyczna w Polsce 1967‒1968, Warszawa 2000.
Dariusz Stola, Kraj bez wyjścia? Migracje z Polski 1949‒1989, Warszawa 2010.
References:
[1] Cf. Dariusz Stola, Kampania antysyjonistyczna w Polsce 1967‒1968, Warszawa 2000.
[2] Krystyna Piotrowska, Videoinstallation "Dokumenty podróży" [Travel Documents], shown in 2008 in the Zachęta-Gallery in Warsaw.
[3] "Pyza wędrowała. Z Anną Trachtenherz rozmawia Przemysław Kaniecki", in: Midrasz, Nr. 17, 2019.
[4] Cf. Dariusz Stola, Kraj bez wyjścia? Migracje z Polski 1949‒1989, Warszawa 2010.
Photo: Private

Dariusz Stola

Dariusz Stola is a historian, professor at the Institute for Political Studies, Polish Academy of Sciences. He has published extensively on the history of international migrations, Polish-Jewish relations, and the communist regime, including: Kraj bez wyjścia? Migracje z Polski, 1949-1989 [Migrations from Poland 1949-1989]; Kampania antysyjonistyczna w Polsce 1967-1968, [The anti-Zionist campaign in Poland 1967-1968]; and Nadzieja i zagłada [Hope and the Holocaust]. In 2014-2019 he was the director of the Polin Museum of the History of Polish Jews in Warsaw.