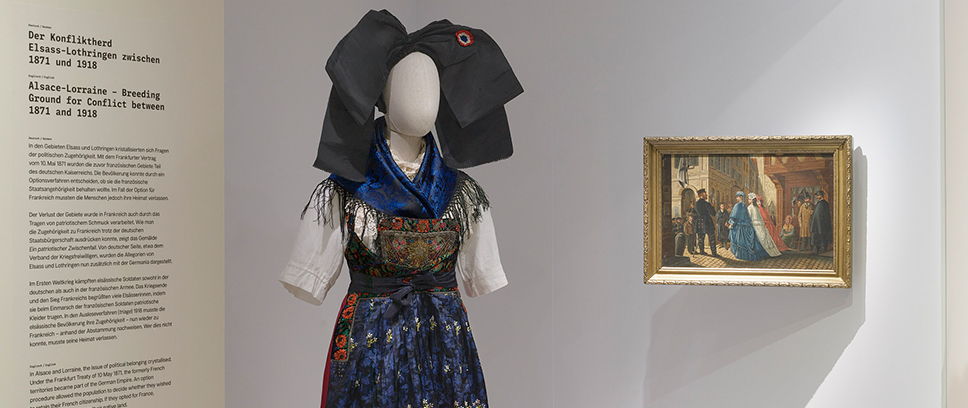 A Liberation Dress from Mulhouse
Marie Czarnikow | 21 June 2022
A code of belonging is inscribed in clothing, even today. A liberation dress from Mulhouse, for instance, tells of a commitment to French nationality during the eventful political history of Alsace. Marie Czarnikow, research associate for the exhibition "Citizenships. France, Poland, Germany since 1789", talks about this topic in her blog.
On 17 November 1918, the inhabitants of the city of Mulhouse gathered in the town centre to welcome the French troops. Only a week earlier, on 11 November 1918, the armistice between France and the German Empire had been signed in a railway carriage in Compiègne. This brought an end to the First World War, at least on this front, after more than four years of war, and also an end to more than 40 years of Alsace, as the so-called "Reichsland", belonging politically to Germany. Mühlhausen regained its French name Mulhouse. Many Alsatians experienced the entry of the French army as a liberation and expressed this feeling through the clothing they wore. Elisabeth Schlumberger from Mulhouse, for example, wore a traditional Alsatian costume, recognisable in the typical bonnet and other accoutrements, but adapted to the occasion in the red-white-blue colours of the French tricolore. General Auguste Hirschauer presented her with a matching cockade as well as a red, white and blue ribbon, which she wrapped around a bouquet of flowers. This "liberation costume" came to the Musée Alsacien in 2021 and is now on display in the "Citizenships" exhibition in the Deutsches Historisches Museum.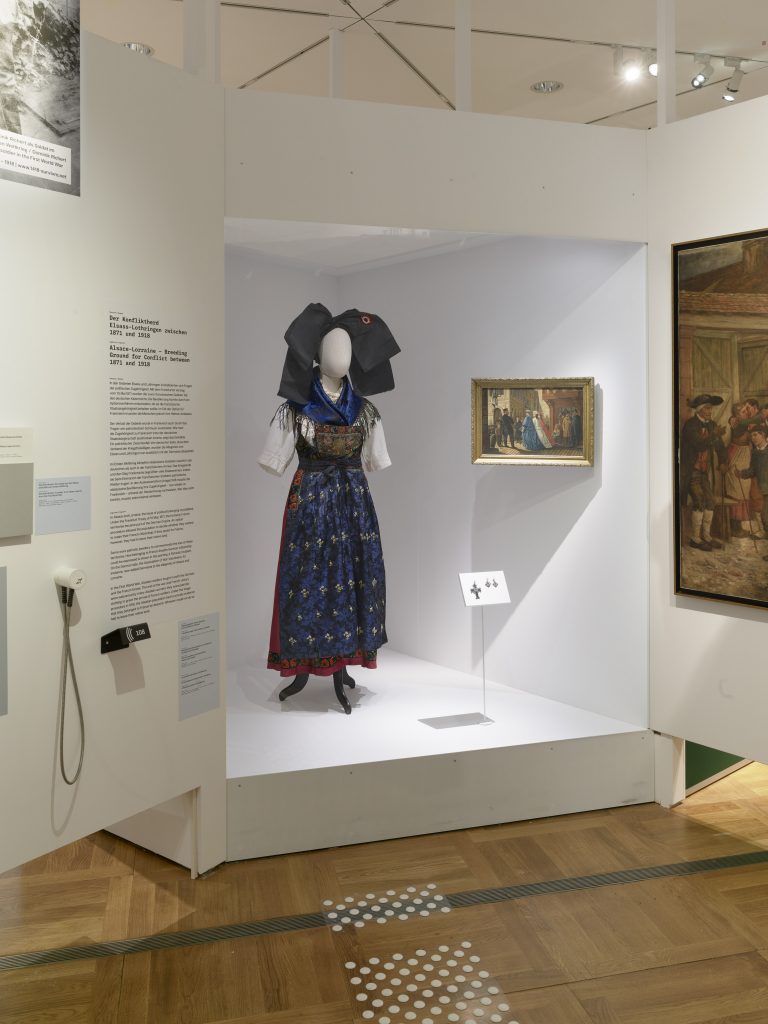 The dress and the accessories illustrate the ambivalent position of Alsace between Germany and France. But they also show that nationalities and patriotism do not find prosaic expression merely on paper, but could and can be lavishly displayed. In the case of Alsace, this sometimes took place in a subversive way, but in this case on the offensive; it depended on political belonging and rule.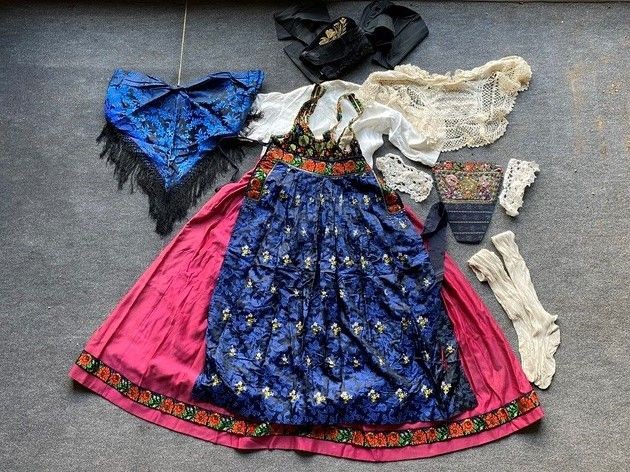 Alsace became a bone of contention at the latest after the Franco-Prussian War of 1870/71. When France was defeated, the Treaty of Frankfurt from 10 May 1871 stipulated that Alsatians had to choose the option of becoming either German or French citizens. If they chose French nationality, they had to leave their homeland. But if they chose German citizenship, they could stay in the newly founded "Reichsland", but had to put up with extensive Germanisation measures. Although many Alsatians possessed German citizenship, they subtly acknowledged their commitment to France. Such a situation is captured in the painting "A Patriotic Incident in Strasbourg in 1871" by an anonymous artist from 1873, which is displayed in the exhibition. It shows three women dressed respectively in the colours of the tricolore as they stroll through the city. As subtle as the commitment to France might be, the motif itself was extremely popular, for the anonymous artist had reproduced an often printed chromolithograph by A. Lemercier based on a motif by Jean-Baptiste Huysmans entitled "Our Flag Despite Everything!".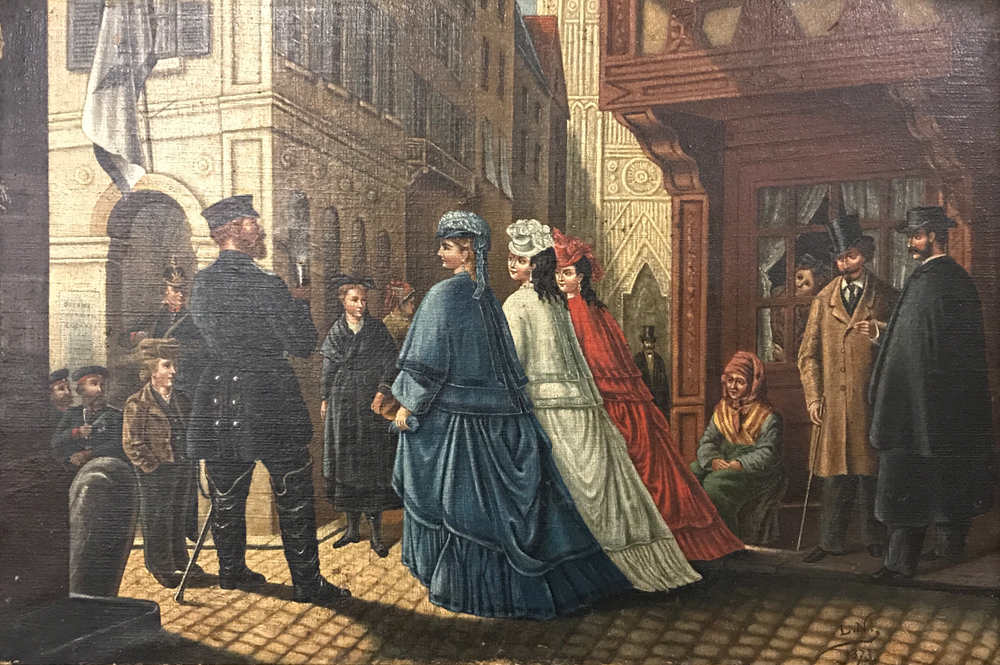 Patriotic clothing, or rather the attempt to express one's political belonging by choosing to wear symbolic pieces of attire, can be traced back to the time of the French Revolution. The cockade, which also adorns Elisabeth Schlumberger's liberation costume, was to be mandatory dress for men and women throughout France from September 1793 on. It was thanks to the efforts of the "Revolutionary Republican Women" that women, too, could express their patriotic feelings through this accessory.[1] There was also discussion in the German states about whether a "national costume" should be introduced. On the occasion of the first anniversary of the "Battle of the Nations", in particular, many women in Frankfurt am Main wore a "German folk costume", which triggered a lively discussion in the press. It was above all women from the Frankfurt upper-class bourgeoisie who supported the wearing of the costume, arguing that women in this way could express their commitment to German unity. That it was above all women who advocated this form of patriotism could have to do with the fact that the costume was a kind of counterpart to the uniforms that had been prescribed for several years for male soldiers.[2]
But now to return to Alsace around the turn of the century: Elisabeth Schlumberger's liberation dress is not only witness to the emotional burden of occupational rule that ended in 1918 for many people; as a traditional costume it also refers to the folk culture of Alsace. There was a long and rich tradition of such folk costumes, which was promoted around the turn of the century by the Alsatian homeland movement under the impression of industrialisation and modernisation. The abovementioned Musée Alsacien, founded in 1907, was to serve as the central collecting point of this folk culture – it was to preserve such traditional costumes and other objects to commemorate Alsace's mythical past and promote a supposed original, pristine folk culture.[3]
Alsatian costumes were integrated into various national cults in the course of the changes in political belonging. At receptions for the German Kaiser, Alsatian women often wore traditional costumes, and at the end of the First World War they wore them again, but now in connection with expressive symbols of the French Republic. At the victory celebrations, Alsatian costumes again played an important role: during the visit of Prime Minister Georges Clemenceau and President Raymond Poincaré, Alsatian women in traditional costumes filed past them and presented flowers. Alsatian women in traditional costumes also took part in the Défilé de la Victoire (victory parade) on 14 July 1919 in Paris.[4]
The voluntary, active commitment to France by wearing liberation costumes was preceded by a rigorous administrative procedure. In a decree from 14 December 1918, the nationality of the Alsatian population was determined through a so-called triage procedure. Only those who could prove having a certain amount of French descendants received a so-called triage passport of the category A or B, became French citizens, and could remain in Alsace. All the others got a passport of the category C or D: many of these henceforth German citizens had to leave what until this time had been their homeland.[5] Alsace remained a disputed territory until the Second World War, during which the liberation costumes experienced a second appearance: in 1944, at the end of the German occupation, the Alsatian women celebrated their belonging to France by wearing liberation costumes in the colours of the French tricolore.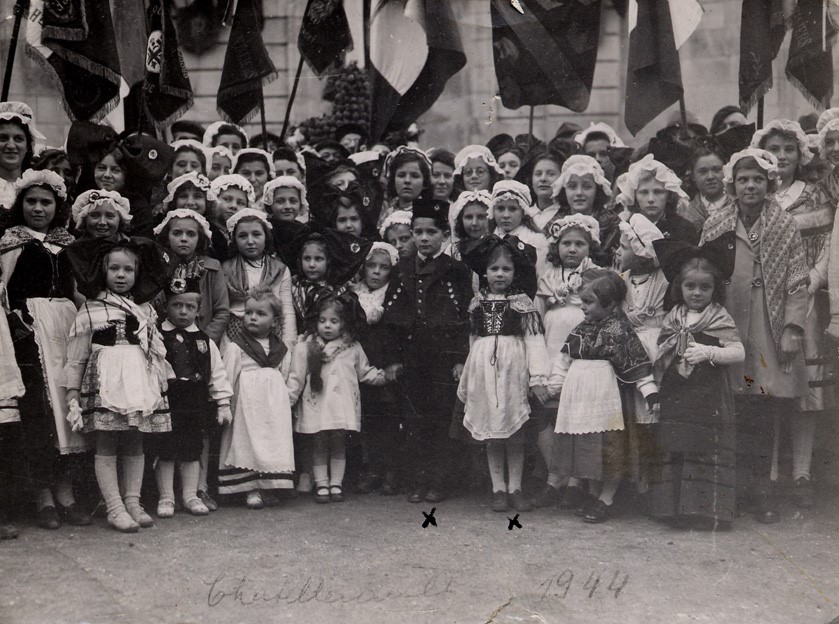 ---
[1] Vgl. Susanne Petersen, Die große Revolution und die kleinen Leute, Köln 1988, S. 128–129.
[2] Vgl. Jochen Ramming, Die uniformierte Gesellschaft. Zur Rolle vereinheitlichender Bekleidungsweisen am Beginn des 19. Jahrhunderts. Beamtenuniform – Rabbinertalar – Nationalkostüm, Würzburg 2009, S. 199–206, 244.
[3] Vgl. Günter Riederer, Feiern im Reichsland. Politische Symbolik, öffentliche Festkultur und die Erfindung kollektiver Zugehörigkeiten in Elsaß-Lothringen (1871–1918), Trier 2004, S. 316–320, 329.
[4] Vgl. Günter Riederer, Feiern im Reichsland. Politische Symbolik, öffentliche Festkultur und die Erfindung kollektiver Zugehörigkeiten in Elsaß-Lothringen (1871–1918), Trier 2004, S. 323, 331–332.
[5] Elisabeth Vlossak, Marianne or Germania? Nationalizing Women in Alsace, 1870–1940, New York/Oxford 2010, S. 209–211.
© Jana Münkel

Marie Czarnikow

Marie Czarnikow is a research associate for the exhibition project "Citizenships" at the Deutsches Historisches Museum. Her dissertation "Diaristik im Ersten Weltkrieg. Zwischen Alltagspragmatik und Privathistoriographie", published in 2022, compares the writing of diaries as a documentary practice in Germany and France. Before that she studied European media culture in Weimar, Lyon and Cracow.