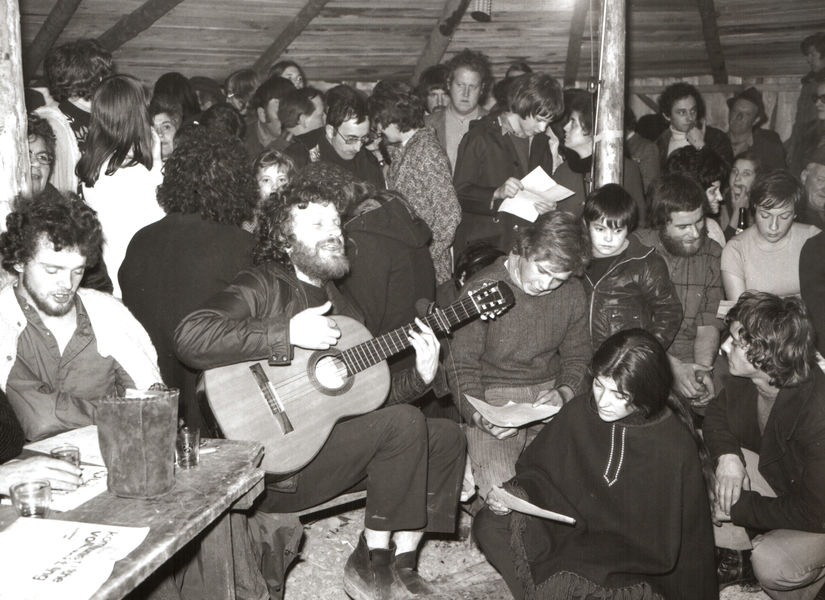 Cross-border environmental activism
A new 'Watch on the Rhine'
The German songwriter Walter Mossmann wrote a variation of the 'Watch on the Rhine' (link) under the pseudonym Joss Fritz. Fritz was a peasant leader who fought against the supression of the rural population in the 16th Century. Walter Mossmann preformed the song on the occupied square in Marckolsheim, and later commented:
In late September 1974, during the occupancy protesting a German lead chemical factory in the Alsatian Marckolsheim, the French teacher Jean Gilg planted a banner in the ground : "Germans and French together: the Watch on the Rhine". That means, he consciously took on the title of the informal German national anthem of the First World War and embued it with a completely new, differentiated meaning: German and French people are no longer at war over the Rhine, but rather are joined together to protect the whole Upper Rhine area against the new, cross-border danger of radioactivity and chemical industry emissions – an absolutely "different Watch on the Rhine". From day one, the Upper Rhine's ecological movement understood itself as an historical answer to the First World War's crimes against humanity.
"Die Wacht am Rhein" by Walter Mossmann
1st verse and chorus
In Alsace and in Baden
There were many years of need
In war, for our rulers
We shot each other dead.
Now we fight for ourselves
In Wyhl and Marckolsheim
We, together, join
In a different Watch on the Rhine.
Whose side are you on?
Hey! Here we occupy.
Here we guard against the dirt
Not tomorrow, but TODAY!