RAF – Terroristic Violence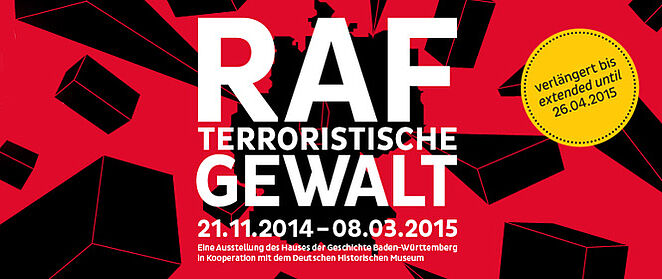 21 November 2014 to 26 April 2015
"Assassinato il più alto magistrato tedesco" – "Four die in kidnap of German industrialist" – "L'Allemagne encore sous le choc de l'assassinat de Schleyer": the attacks of the Red Army Faction made headlines around the world. They challenged state and society. The exhibition RAF – TERRORIST VIOLENCE, which runs from 21 November 2014 to 8 March 2015 in the German Historical Museum, focuses on the way citizens and politicians dealt with the Red Army Faction's terrorist violence.
How did the RAF justify the attacks? What consequences did the acts of violence have for the families of the 34 victims and for the people who survived an attempted murder? For the presentation in the German Historical Museum the original concept of the exhibition shown in the Haus der Geschichte Baden-Württemberg in Stuttgart under the title "RAF – Terror in the Southwest" was expanded to include important new aspects. Previously unpublished film excerpts, photographs and contemporary flyers illustrate scenes of the violence that contributed to the radicalisation of the student protest movement in West-Berlin from 1967 to 1970. For many people the shooting of Benno Ohnesorg on 2 June 1967 and the attempted murder of Rudi Dutschke on 11 April 1968 were a turning point. A minority decided to take up the armed struggle against the state. The beginning of the history of the RAF dates from the time of the forcible freeing of Andreas Bader from prison detention on 14 May 1970.
In the 1970s the attacks took place primarily in southwest Germany. The Red Army Faction set their sights above all on the office of the Federal Prosecutor in Karlsruhe and the headquarters of the US Army in Heidelberg. The state reacted to the assassinations with the most extensive search and surveillance actions since the end of the Second World War. The escalation during the "German Autumn" of 1977 spread fear and a feeling of powerlessness among the people. Many citizens called for the death penalty for the terrorists.

How can terrorist violence be combated without jeopardising the democratic state? The question is still relevant today. Letters, sound clips and film documents show how citizens and politicians were actively engaged in bringing the violence to a halt and at the same time maintaining an atmosphere of constructive debate. "The urban guerrilla in the form of the RAF is now past history", declared the Red Army Faction when they dissolved the organisation in April 1998. The exhibition shows, however, that the confrontation with acts of violence is by no means over.
Exhibition flyer
Download PDF